FOR IMMEDIATE RELEASE
MAXX MOSES/ POSE 2 – 'Self Love' – Artist Reception
December 11TH at Alexander Salazar Fine Art
Maxx Moses brings new life to Alexander Salazar Fine Art this December. Evolving on the graffiti and street works of Pose 2, Maxx Moses focuses on transformation and growth, boldly portrayed in his paintings.
Hailing from the Bronx, New York, Maxx Moses has evolved from an urban street artist to a Concrete Alchemist, building new experiences and conveying them through his paintings. The viewer is able to witness the growth and longevity of an Artist consistently learning and developing.
This powerful exhibit will display the transformation of Pose 2 to Maxx Moses and the process of 'egotistical' to 'self love'. His personal favorites that were inspired by his recent travels to Mexico will also be on display at this exhibit. 'Self Realization' and 'Tree of Life' highlight the emotional journey that Maxx Moses has experienced and is now generously sharing with his audience.
"My works show the emotional journey I have been through, all the way from New York, to where I am today. I am able to appeal to a wider audience now and show them my personal experiences".
The artist reception will begin at 6pm and run till 9pm. Attendees will have the chance to meet with Maxx Moses and enjoy old and new pieces that have brought this inspirational artist to Alexander Salazar Fine Art.
Contact:
Alexander Salazar: alexandersalazarfineart@gmail.com
Tel: 619-531-8996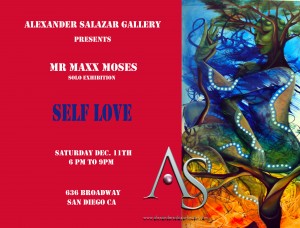 Comments are closed.