November 13th, 2019 | mrmaxxmoses


A few years ago I was doing some research on art in San Diego and I came across this interview on KPBS that spoke about murals in Southeast San Diego. The feature was about The Urban Collaborative Project and the organizations Director, Barry Pollard. I was like who is this person and why don't I know him, better yet why doesn't he know me? I reached out to my good friend and Director of the NAACP, Clovis Honoree and asked do you know Barry Pollard and can you introduce us? Upon our first meeting Barry and I had a great conversation, talking about community art, social justice, empowerment and just getting a feel of how we both think and operate.
A year later in 2017 a dear friend forwarded me an application for the San Diego Foundation Creative Catalyst program which is a $20,000 grant from the San Diego Foundation. The Award was created to help propel established and emerging artist to the next phase of their career. The grant is gifted to individual artist, partnering with a Non-Profit organization. Instantly I thought of Barry and the Urban collaborative project, we applied and won the grant.
Through the Creative Catalyst grant we executed two landmark workshops "Family Splatters" and "Every Human is an Artist" and our Permanent art installation "The Mines Eye", an outdoor kaleidoscope built out of bicycles (that now resides at the Gathering Place @ 101 50th. street San Diego).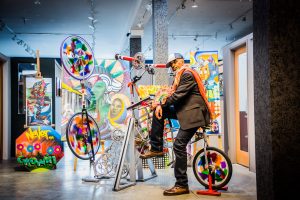 The most valuable asset obtained throughout this experience is the value of partnerships. What began as a vision inspired by a simple toy kaleidoscope and pure determination was actualized through a series synchronized partnerships. Francisco Contreras Yee, A Reason To Survive, Students from Sweetwater and Morse High schools as well as a host of volunteers and vendors all contributed to our vision.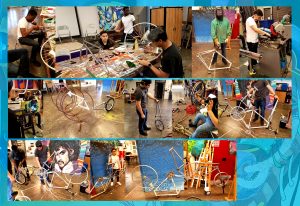 As the partnership between Urban collaborative Project and myself (Maxx Moses) continues to flourish, 2020 promises to bring even more creative opportunities to Southeast San Diego. Our recent project Uncontained, is a tricked out container @ the Gathering Place, with the interior designed for multi-purpose usage and the exterior painted to inspire your mind.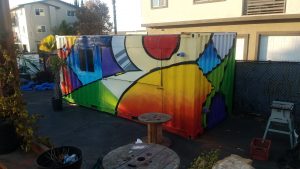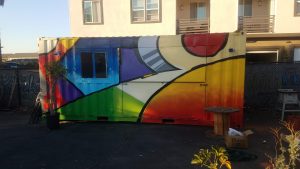 September 20th, 2019 | mrmaxxmoses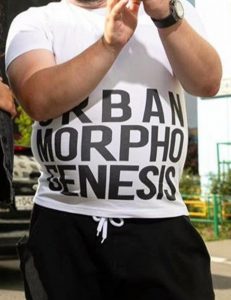 They went to Russia to represent the art form of Graffiti with a collection of past FX crew members who've titled themselves "the Antidote". Comprised of Pilot, from Houston TX. Poem and Jamie Hef from New York City. Yama, from Italy. Koka, from Mexico, Bert, from Germany and Pose2, aka Mr. Maxx Moses from California. Individually each member carries with him his own distinct style but collectively they are a dynamic force that forges a unique blend of nostalgic and modern letter forms with futuristic concepts. And this is exactly why they were invited to Morphogenesis 2019.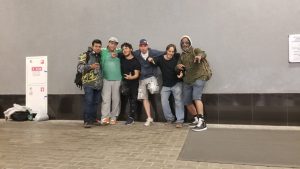 Planning for the adventure to Russia, Pose 2 wanted to make a strong first impression. So he dug into his closet and pulled out his vintage 1983 Graffiti Painted denim jacket. When he landed in Moscow he was greeted by journalist Anja and Photographer Andrew who both spoke good English. Pose was excited to be in Moscow and they picked up on his vibe right away. Immediately Andrew started shooting and Anja began interviewing him. Pose was like Dam I just got off the plane. But they already understood that he had a long history in Graffiti so they wanted to seize the opportunity.
When Pose arrived at the Morphogenesis festival he was mind blown. "He said to himself dam this is happening in Russia, twenty story buildings getting blessed with art?"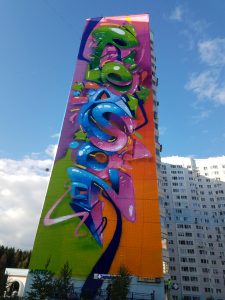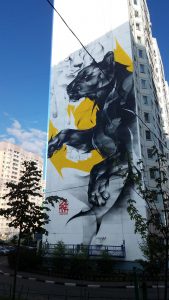 The community of buildings was like a city onto itself with at least fifty high rise apartments all in one area. And forty of them were in the process of becoming painted. There was an enthusiasm beginning to spread throughout between the community and the artist. Pose mentioned how those who could speak English genuinely expressed their joy in having the artist transforming their neighborhood. "It was amazing people invited us into their homes to eat, talk, sing and enjoy the culture. This feeling of international connectedness really made it easy for the artist to feel at home away from home."

However, Pose was on a mission and had two things at the forefront of his mind. First, to see the building they were assigned to paint and secondly, go up on the swing stage and experience what it feels like being twenty stories high in the sky. The entire antidote team knew this mural was going to be a challenge. And They were faced with a lot of unknowns throughout the process. Things went extremely slow at first and this created tension amongst the crew. With only two weeks to complete their wall five days had already zoomed by and barely a scratch had been made on the wall.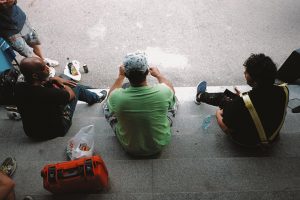 Frustration chaos and the fear of failure was not just looming it became real. Most of the murals created were single images where the entire team worked collectively on the production. This wasn't the case for the Antidote crew, each section had to be done individually. Tempers flared and egos clashed so a schedule was devised. Daily from 6am to 9pm each artist had approximately three hours to work on their section of the wall. The blessing in disguise was this left a lot of down time for crew members to go throughout the festival to create and connect with the community. "We are artist and we are most happy when we are creating." says Pose2.
Perhaps this is why this unique group of individuals call themselves the Antidote Pose explains. "We took the Art Form of Graffiti along with our fears and insecurities and flipped it into the most dynamic awe inspiring art movement of all time. Now that's medicine, that's the Antidote. We are transforming communities throughout the world with an art form that the world once hated. Ironically our art now transmits an universal language that inspires and connects people to joyfulness, now that's power."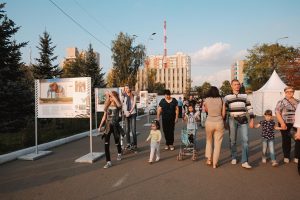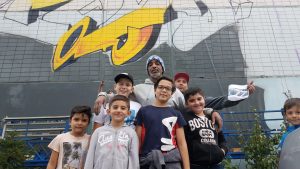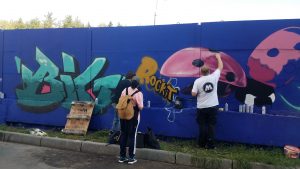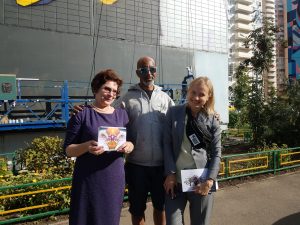 "American Graffiti" is the title of their Sky Scraper. The concept was orchestrated by the Italian artist Yama. But it's the imagery of Bert and Koka that give the mural it's story. Graffiti became famous back in the 70's when teenagers took risk and were courageous enough to go out and paint their names on the sides of trains and buildings. Before the age of the internet kids pushed their faces deep into graffiti magazines to see who had freshest style and this is how the tradition spread throughout the world.
Pose feels like this mural is a tribute to honor the tradition of Graffiti and New York the city that made it famous. He states that the large scale triangles depicted within the mural are like futuristic beams on the inside of the building. It's the framework the structure the skeleton inside the body. Resting on these bones are the styles, these names represent the identity the soul and raw self–expression. "Throughout all my travels I've come to realize that self-expression is the most important part of being human."
"Watch a brother blend a dope rhyme with no help there's no fessing or guessing while I'm expressing myself. It's crazy to see people be what society wants them to be but not me…"
Express Yourself, Dr. Dre NWA

March 21st, 2018 | mrmaxxmoses
The idea of creating a mural @Fair 44 began with an inspiring conversation between Tayari, of the Dojo Café, and Maxx Moses. A storage shed had just been built on site that was screaming for color. As their conversation elevated the idea of involving select students from the Stephan Hawking Charter school began to crystalize. Maxx returned to school and shared the idea with Mr. Miles the music teacher. The two of them had been collaborating all year with Art and Music and thought it be great to actualize this practice within a real life setting. However, their idea became complete once they decided to involve dance, thus Ms. Cybelle, the Dance teacher completed trio and the Color of Sound was born.
Their goal, create an interactive experience with 3 groups of 13 students who rotated every 45 minutes between mural making, dance and drumming all under the direction of the respective teachers.
The outcome was amazing students smiled, laughed and learned throughout the day. Parents participated too. The drumming and dance fed the mural making process and students took on the task of painting with joy and guided professionalism. The coolest parts of the day were the spontaneity that burst through when the dance circle formed and the student's teachers and parents all had a chance to breakdance… what a day.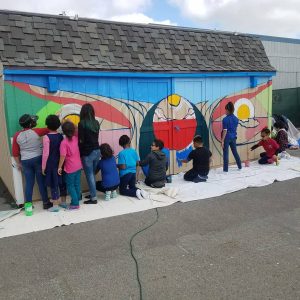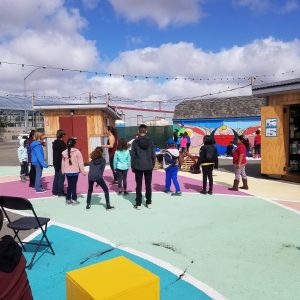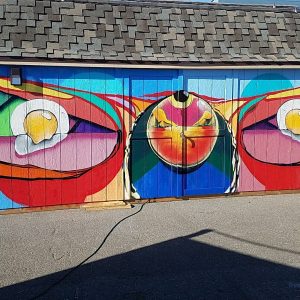 February 27th, 2018 | mrmaxxmoses
About a month ago if discovered this magazine titled the Conscious life Expo. Immediately I thought I have to be there. I need to be in Los Angeles within the company of healers, Psychics, shamans etc. I wanted to share my art within this circle of individuals. I looked inside the booklet and seen the show was only weeks away and all the booth spaces were sold out. But there was a phone number listed so I called and left a message of how I had to be there and how my work was such the right fit for that audience. Two days later a woman returned my call She was hip to the works of Maxx Moses and was glad I wanted to be a part of the show! Our conversations were inspiring and we just kind of hit it off, synchronically. She expressed to me what I'd already read, that all the spaces were sold out but… she would do all in her power to insert me into the show… and before we hung up she said once you get into the show something will happen some magic will happen.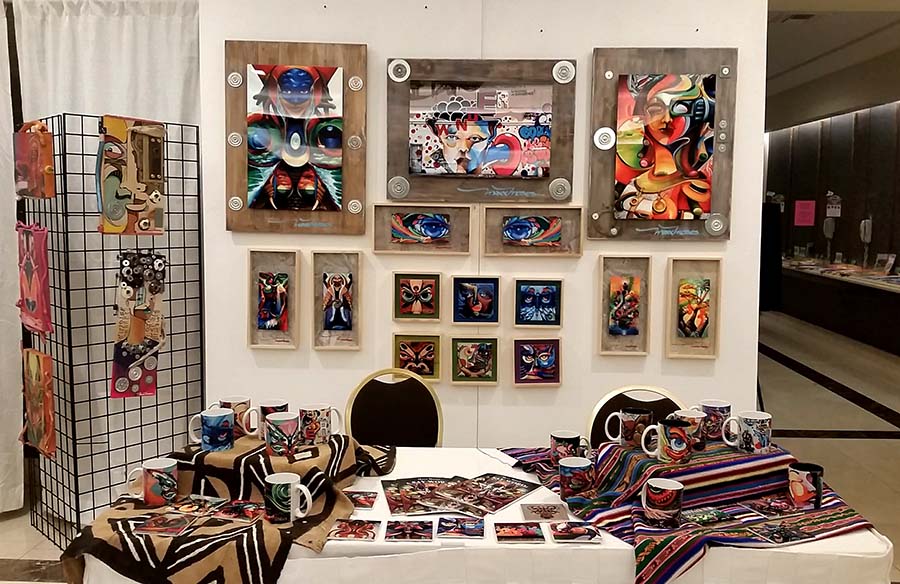 So yes a space opened up for me and I arrived Friday February 9th. to set up and sell. Although I was grateful to be in the show and granted so much kindness, the booth location was wack. The following day I ventured upstairs only to see my fellow artist and friend Mear One front and center at the show, right at the entrance, dam what a location. We chatted for a while and like always I was brainstorming of how we could make our presence even stronger at this event next year. Then I said to Mear, let me think on some ideas for the future tonight and well talk about it again tomorrow. Tomorrow he says. Oh I won't be here tomorrow! What I said out loud then I'll take your space tomorrow. All good he says… the magic begins. Prior to this across from me was this healer and body worker, named Bobby Helm who just did some body work on my friend Crystal. The noises she omitted and the expression on her face encouraged me to trust the process. She was like do, it treat yourself. So I did, Bobby gave me a consultation poked around my mid-section and said you spend money getting your car tuned up and running, do the same for your body… hmmm the mid-section here is where I need to do most of the work, lie down. He went right to it, pressed directly into some area on my midsection and I whaled as he continued to press I could feel the trapped energy releasing from that area in the body, and he continued. It was rigorous and stimulating, when he was finished I just remained there as my eyes released endless tears of relief. Wow I said aloud I didn't realize my body had been storing so much trapped energy. Emotionally I was at least 25 pounds lighter. Then Bobby says to me, now watch how your life changes!… Natural magic, I end up in prime time front and center at the Conscious Life Expo… sharing my gifts with the world.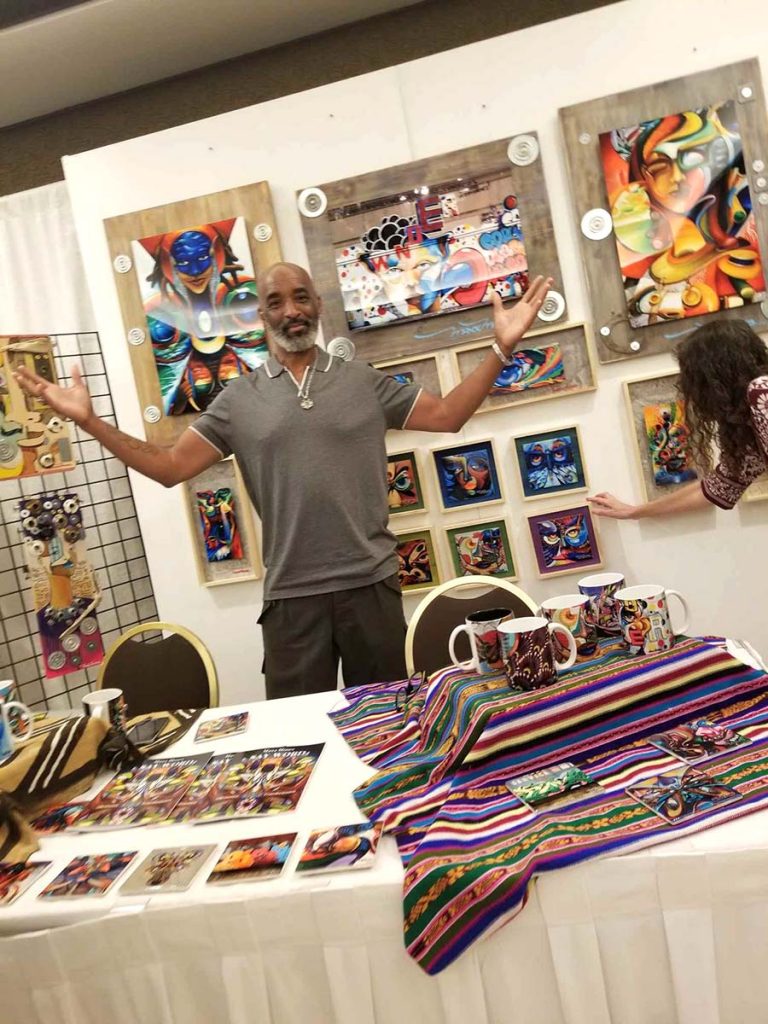 December 18th, 2017 | mrmaxxmoses
As of July 2017 I've had the pleasure of taking on the position of Artist in Residence in Chula Vista at the Stephan Hawking Charter School. This position offers me the opportunity to encourage and inspire young students from kindergarten to 6th grade. The campus, teachers and staff are truly amazing. There is an active farm facilitated by Good Neighbor Gardens, along with a vibrant music and dance program. During the summer we had some professional teacher training sessions focusing on Project Based Learning. As teachers we were challenged to create and implement this methodology into our programs. Since my mural art career is project oriented the ideology was a seamless fit for my teaching style. I was glad to see this type of learning was being implemented in the school system and I understand how satisfying it feels to set goals and develop concepts and see them come to fruition. It's also common for failed attempts and unforeseen occurrences to arise during these projects and this is when your intuition and improvisation can be utilized to create new ideas and solve problems. This Is where I feel art plays a significant role in the development of the individual and as the Artist in Residence this is what I want activate within my students. Personally I've learned to use unknowing as an instrument of inspiration instead of hesitation when creating art and I want to encourage my students to be fearless even when the outcome is unclear.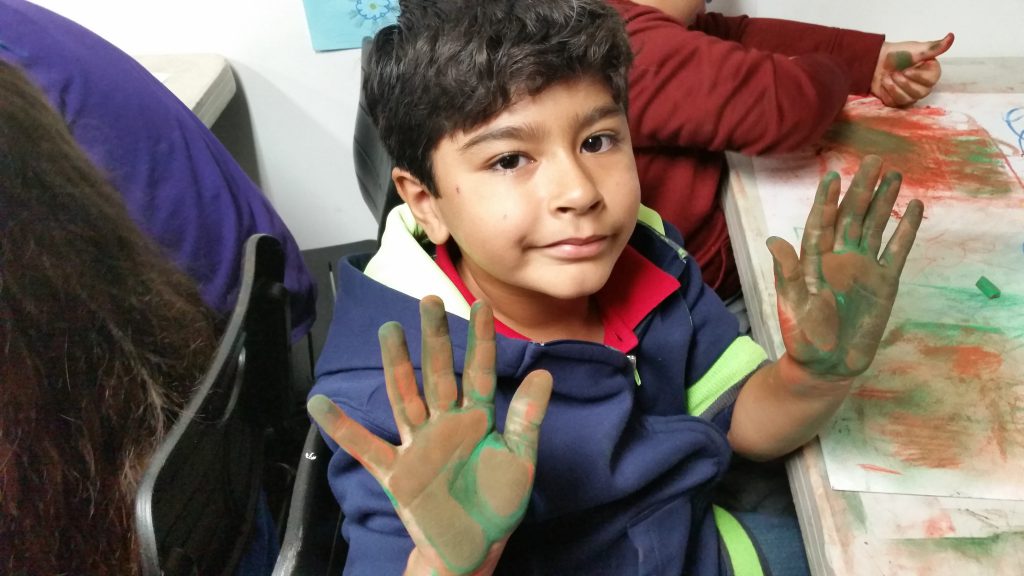 One of the coolest things about taking on this position is that the Principle herself is an artist, a dancer, so she truly understands the importance of art and how valuable it is in shaping the hearts and minds of students. Upon hiring me I was afforded the opportunity to create my own curriculum. My initial goal was to get to know the students, uncover what art supplies were available and allow them to simply enjoy making art. For at least the first three weeks from a teaching perspective It was all intuition and improvisation I had no plan. It was the learning curve for all of us. It was awesome, they explored pastels, painting, chalk, collage, building, destroying they were stoked and so was I. The enthusiasm on campus was bubbling there was art taking place.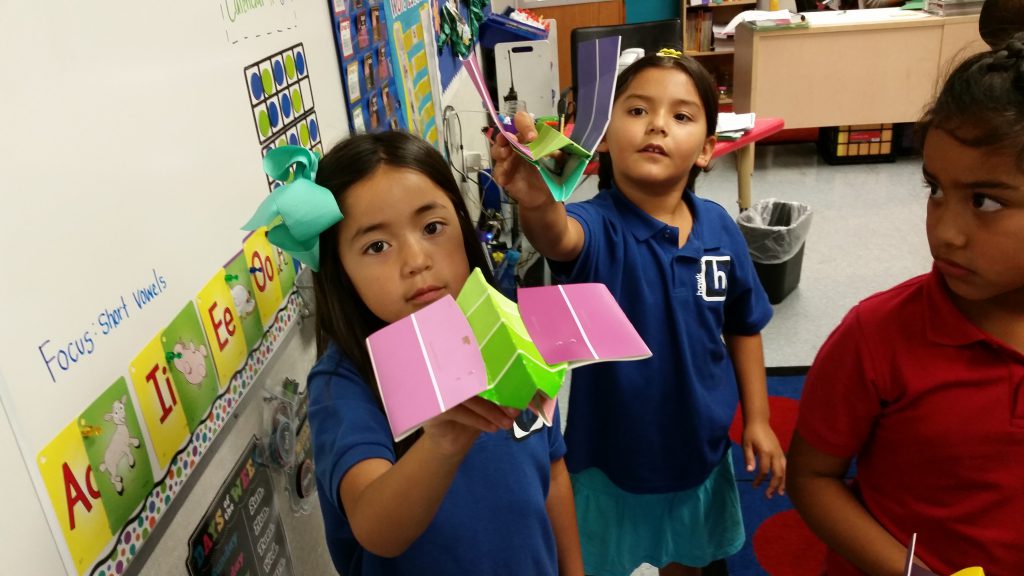 I now had a sense of purpose and my goal as Art Educator is to first instill that every human is an artist! And that everything is art! With this as my objective I began to determine how and what was essential that every human should know and understand about art. I used math as a means of comparison. stating that if students can grasp concreate ideas about math like 1+1= 2, 2+2=4 then what fundamental concepts should students understand about art that they will never forget? Hence I began to see how I needed to formulate my curriculum. First I began by questioning the students. What is color? Where does it come from? What is art? Where is art? And during this process I allowed the students to answer the questions spontaneously without raising their hands. Wow this created a lot of animated excitement their answers were blurted out ideas of raw intelligence. I was inspired as the gleam in their eyes and panting breath showed me they were ready to create and I was now challenged to develop a curriculum to match their energy… wow, let's get this party started.
Every classroom had a rainbow in it but when I asked how many colors are in the rainbow there was no consist answer. However, when I asked what 1+1 or what 2+2 equals there was. This happen in every class. Yeah I thought to myself I am in the right place at the right time. I'm going to make art a vibrant and potent part of these students lives but also applicable as applied science… Party On!
Maxx Moses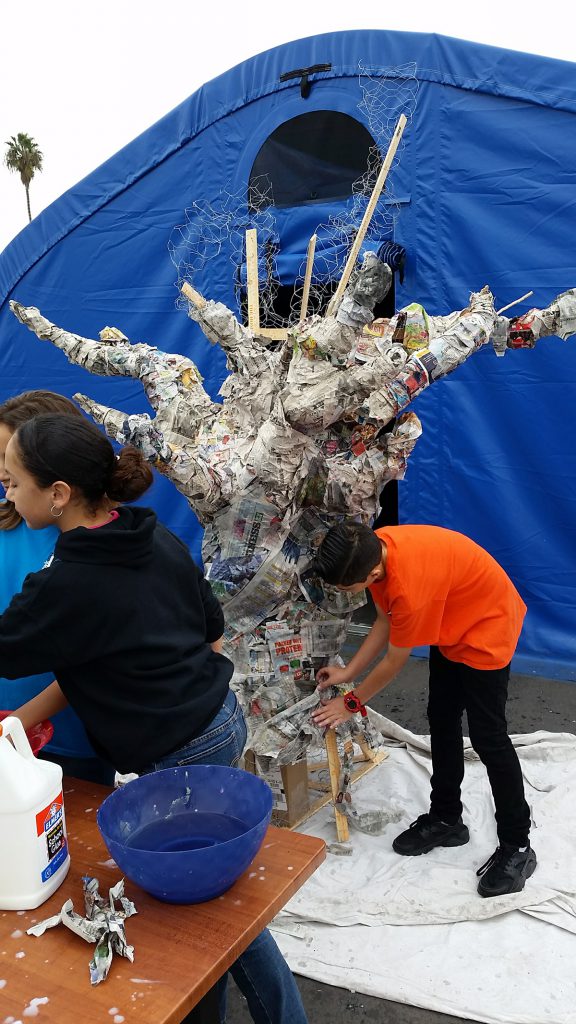 October 29th, 2017 | mrmaxxmoses
Last year a group of talented souls, dancers, poets, painters and digital visionaries, were all brought together by D. Sabella Grimes to work on his project ELECTROGYNOUNS. This weekend his living dream came to fruition during the LAX FESTIVAL within the Bootleg Theater. A collaboration of light, sound forms and movement captivated the audience with lyrical gestures of texture. Perhaps this is why I enjoy theater so much. The beautiful blend of professionals working together styles complementing each other to generate a oneness of visual expertise. What else could it be called other than ELECTROGYNOUS?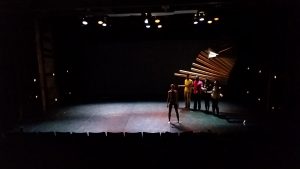 I arrived in Los Angeles on Sunday October 8th. exhausted but excited about how I would collaborate once again with this incredible group of talented souls. I awoke Monday morning and decided to walk to the Bootleg Theater it felt good being in LA again its been along time since i've been back. Along my walk to the theater I passed this Carpet Store and outside they were throwing out all the carpet tubes. The owner seen me eyeballing them and said you can have them, you can have them all. Hmmm I thought I could use these in the performance some how!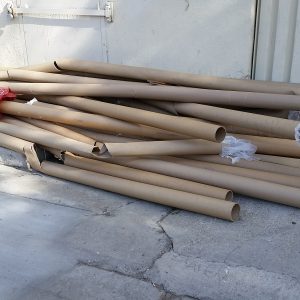 The first question that came to mind was could we hang anything from the ceilings in the theater. The answer was yes!!!
Randomly I began cutting these forms into different sizes then in sized order I placed them on the ground and began tying them together. The real challenge was figuring out how to get this structure off the ground into the air successfully. Fortunately Katelyn the wonderful production manager had all the know how and insight to raise this baby up.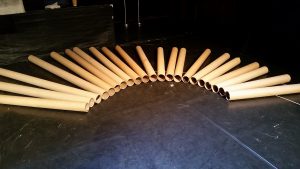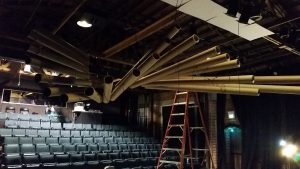 But something wasn't quite right to me the structure itself was hung but it wasn't dynamic. After walking around the structure i realized it was hanging backwards all the dynamic energy of the sculpture was not facing the audience. So I took the whole structure down and flipped it. Halfway done Sabella walks into the theater and he was like man you was piece is at his eye level and he says it looks great right where it is. I was like really? The dancers will bump into it was my concern. But he was cool with it right where it was. He began interacting with it speaking through the tubes I was stoked.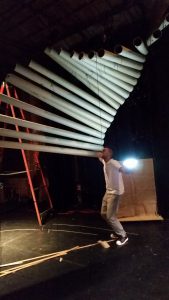 There is something powerful about working with Artist that allow your imagination
and creative freedom the ability to breathe dance and play… magic happens.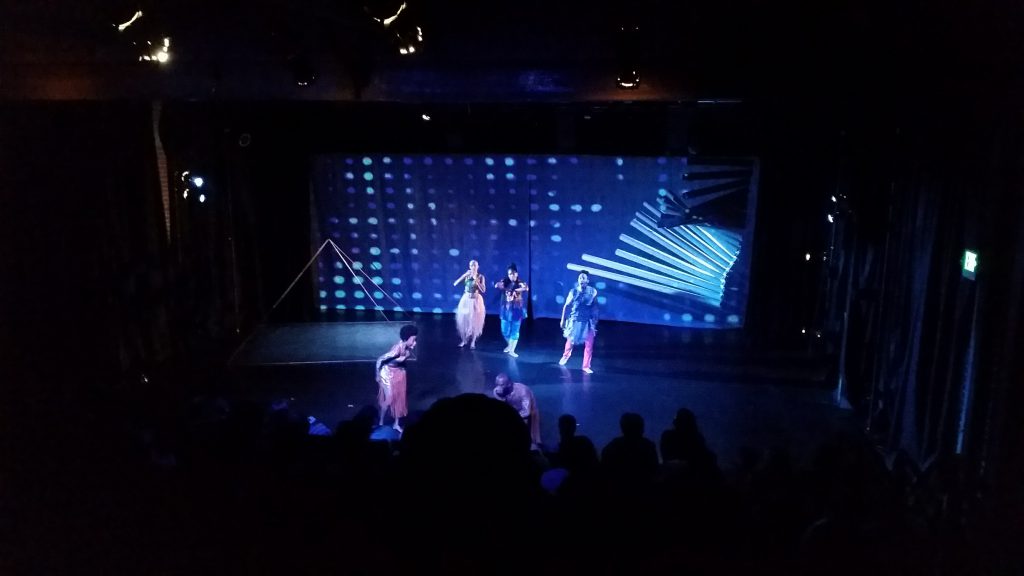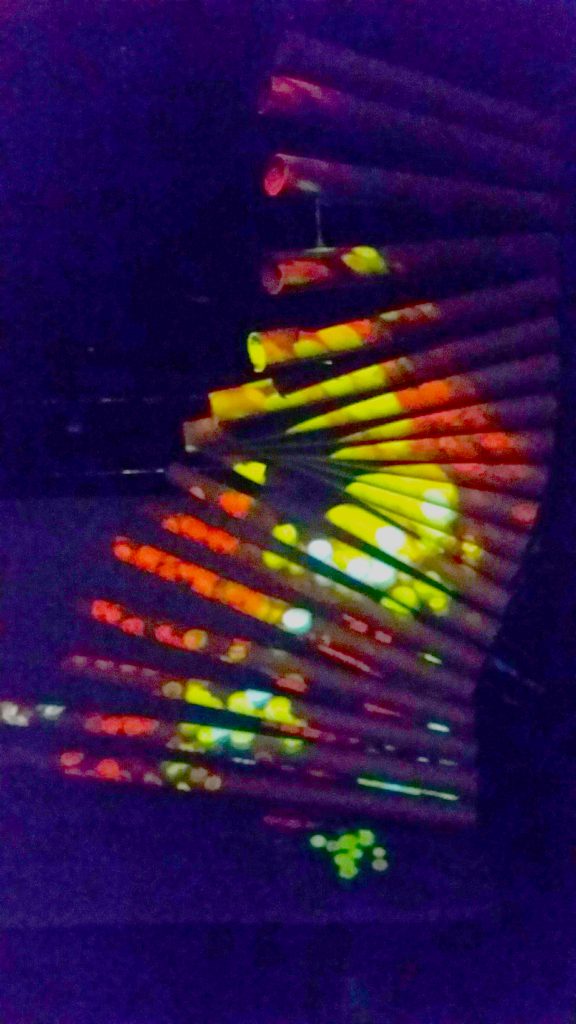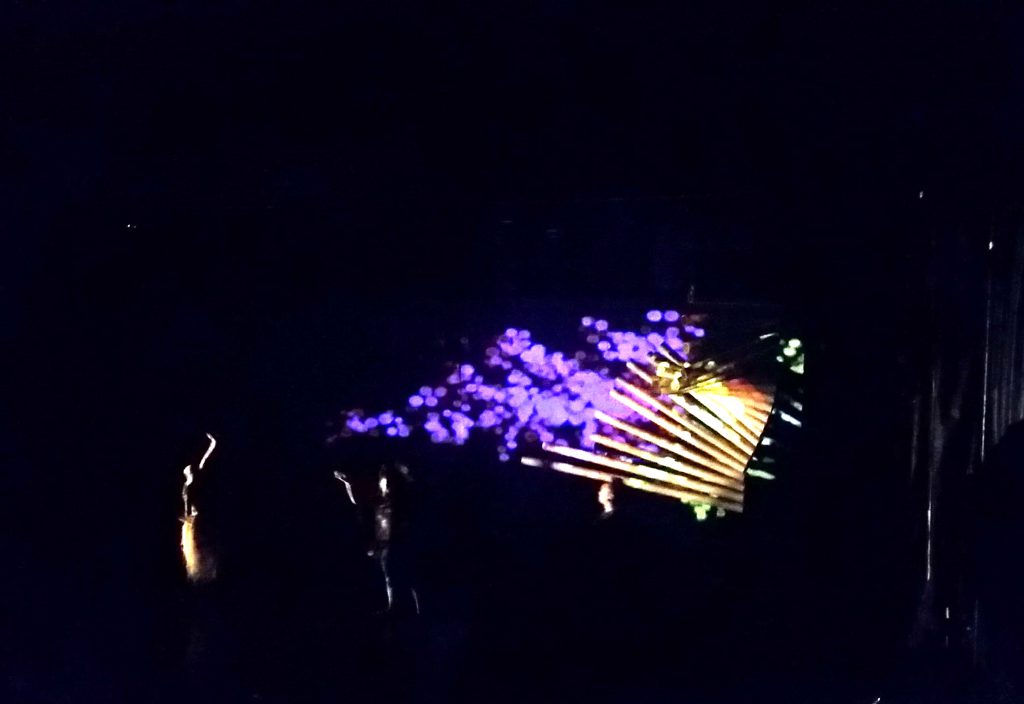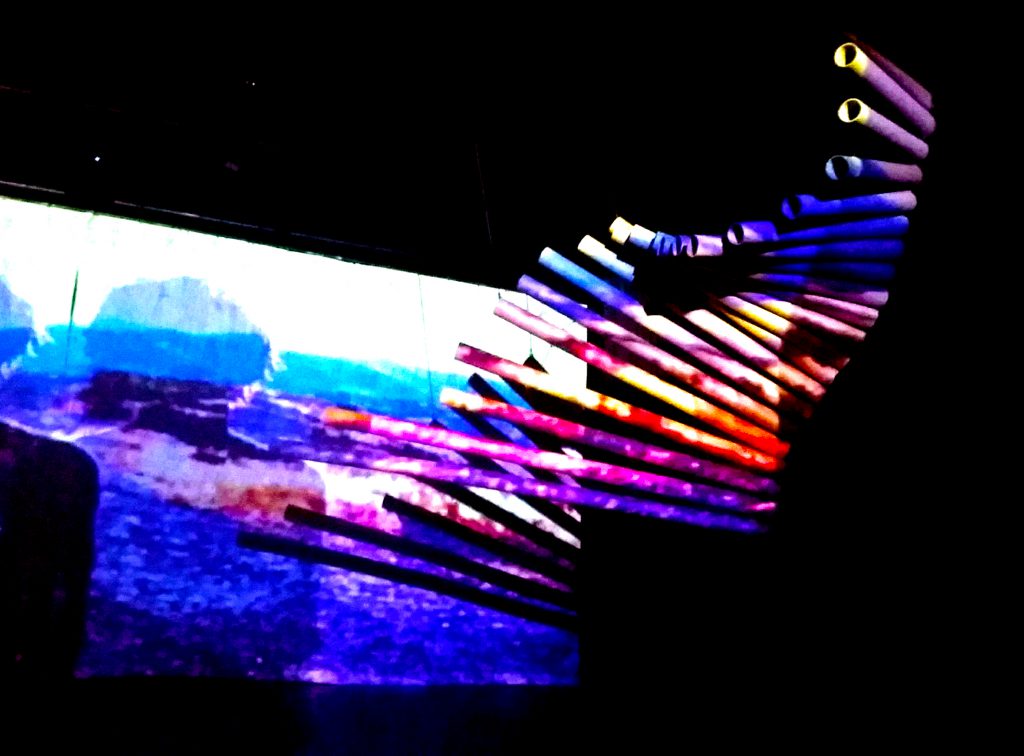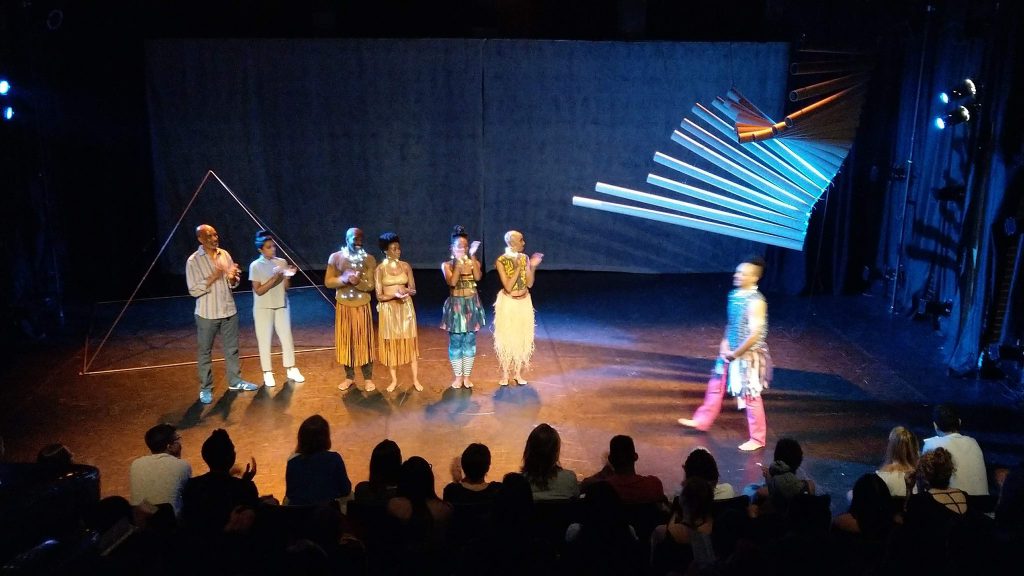 August 3rd, 2017 | mrmaxxmoses
At the end of 2016 Qswimwear approached me about creating a Maxx Moses, collection of swim suits. I was excited about the idea about having my art transferred onto swimsuits, my mother would've been proud of this accomplishment, she loved swimming and encouraged my brother and I to become good swimmers.
Initially the collection was going to be created from photographs of murals I created throughout the world. It was these images that attracted Fernand, the owner of Qswimwear to my art in the first place. However, some of the images didn't translate too well from the walls onto the swimsuits, they just weren't sharp enough. Fortunately, I had just completed a series of illustrations that told stories of my many global travels that I felt were filled with inspiration and imagination. With the help of fellow artist and photographer, Jinny Zola's the art was successfully shot and the collection was put together in a matter of weeks. We now have 14 different styles for this first collection. Each suit has a name and each name has a meaning that tells a brief story about the art.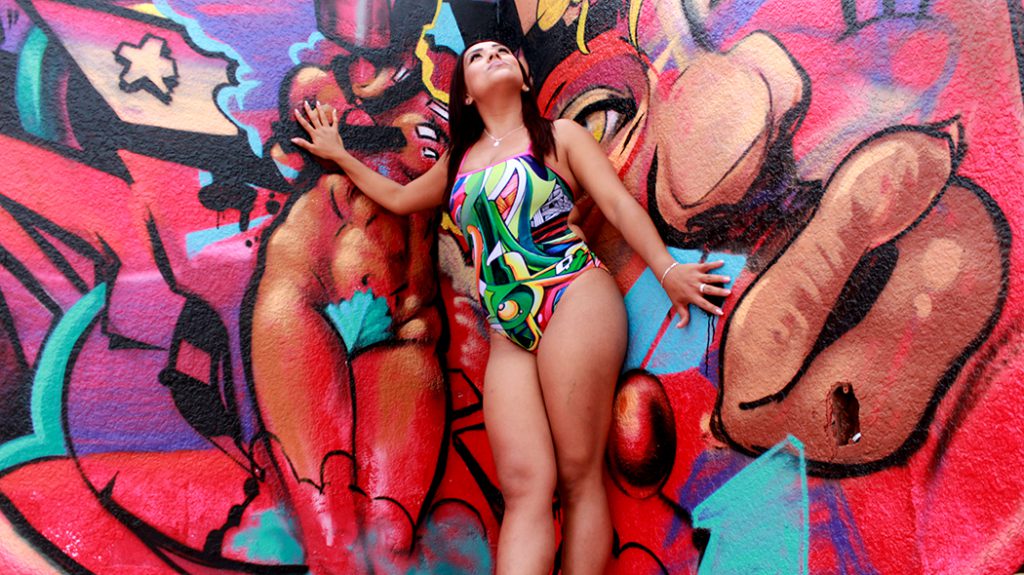 Look online now at www. Qswimwear.com artist collection, Maxx Moses to view entire line of swimsuits, shorts, T-Shirts and more.
PS… Many people have been wanting to purchase these items in XXL and XXXL yes we have your size. However, there isn't a tab to click on the website. so call your order in directly for plus sizes to KARLA at. 619 677-2050
Wall art by OZ FUA, photography and model credits go to Christian Jimenez.
June 16th, 2017 | mrmaxxmoses
As we are quickening through the age of Artificial Intelligence it's nice to experience the realness of an event that speaks to the heart, soul and backbone of what AMERICAN STREET CULTURE has built and the world embraces, HIP HOP! Join us this Saturday and Sunday.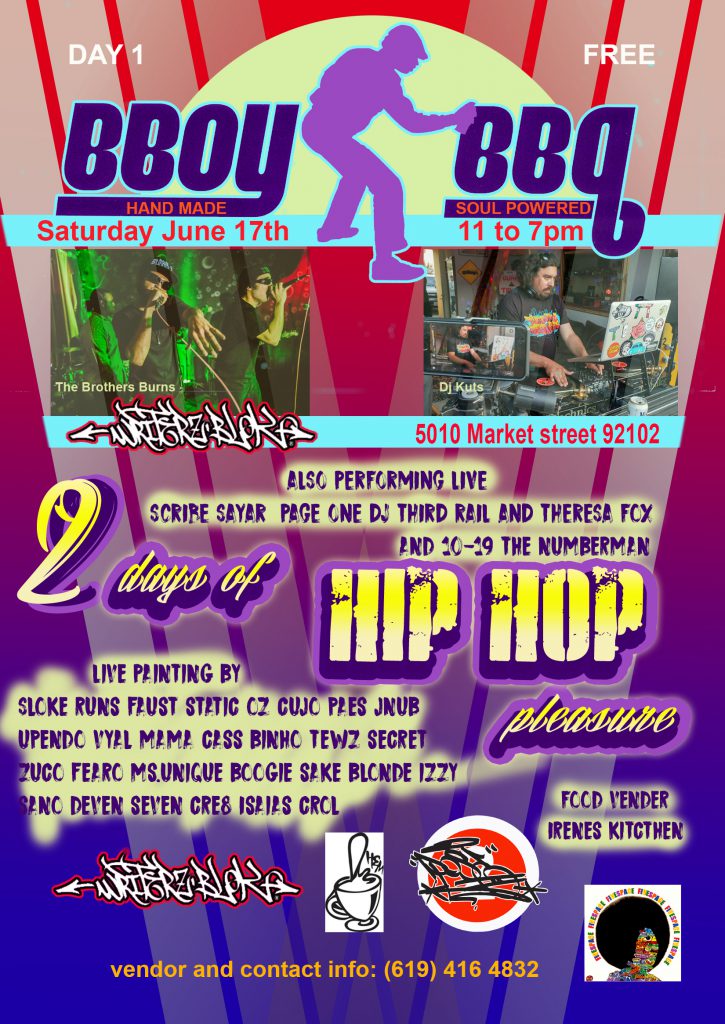 The 2nd day of this event is the beginning of something new… WONDER BORDERS Artist Retreat in Rosarito Mexico. This ocean side location is designed to reawaken the artist within. Join us!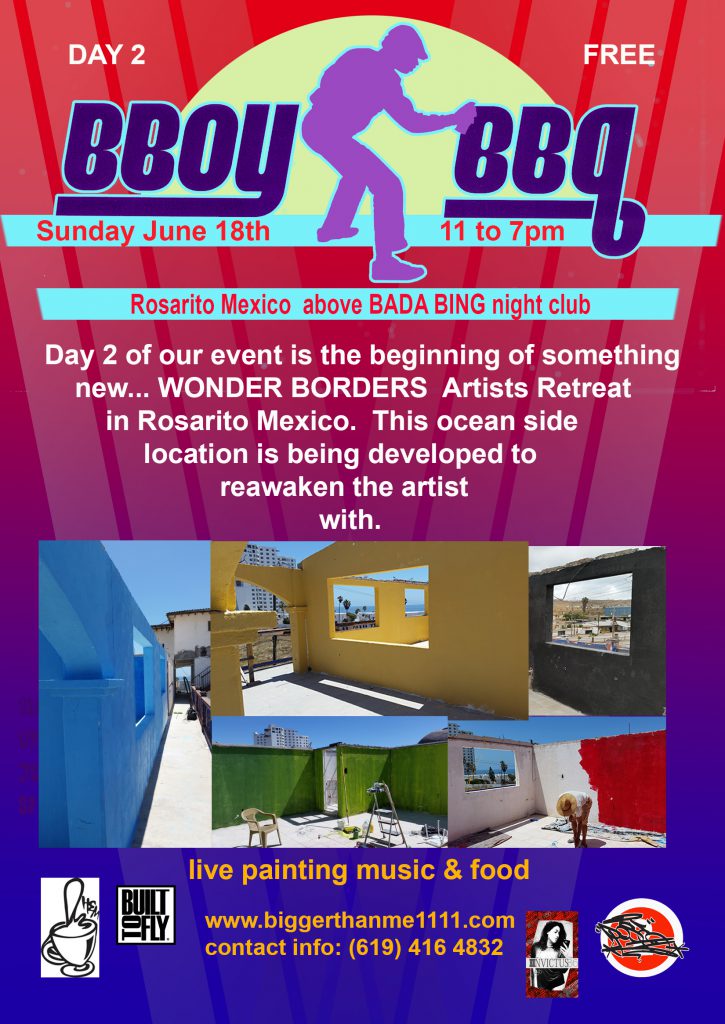 September 20th, 2016 | mrmaxxmoses
FOR IMMEDIATE RELEASE
Local artist, Mr. Maxx Moses sends a message of Love and Creativity to the community
Book launch, new mural and community workshop arrives at The Studio Door in North Park
SAN DIEGO, California – August 30, 2016 – Local muralist Daniel Hopkins aka Mr. Maxx Moses will hold a book launch for his latest release, SAY WORD, Art & Affirmations. The launch will take place in conjunction with the artist reception for Open Studios San Diego on October 8, 2016 from 6 PM – 8 PM at The Studio Door in North Park.
Say Word is the latest effort for Daniel to bring positivity and creativity into our communities. The book of affirmations sends a message that words and images can propel lives towards goodness. It's a natural extension of the message that comes through the artist's murals, workshops and activism, which can be reviewed at http://posetwo.com, the artists website.
"Affirmations are here as reminders, for we are forgetful. We've forgotten the beauty from which we've been created. We need constant reminders of our oneness with everything in creation to alleviate the pain of loneliness," said Daniel, "I hope that people will use SAY WORD to help visualize and affirm their inner strength and mental magnetism."
Remaining uncomfortable is a life practice for the artist Daniel Hopkins. His formal education and exile from his beloved NY was at SUNY Brockport College, where he fused Subway Art with surrealism creating his own artistic identities. Creating large scale spray- painted murals across the globe and forging deep connections with communities is how he examines the depth of his learning and the quality of his art. He currently resides in Rosarito, Mexico and many of his local murals can be seen throughout the border region.
His most current persona, Mr. Maxx Moses is a Concrete Alchemist whose mission is to transform blank walls into contrasting ideas of beauty. Ultimately encouraging the viewer to look at death as inspiration… to live! In 2014, he organized some of the regions best muralists to participate in "The Alliance Project," painting murals on the building that The Studio Door now operates. Recently, Maxx along with Gloria Muriel aka Glow and Monty Montgomery, half of Kreashun, have returned to the building to repair, revise and reimagine their murals.
"Creativity takes many forms. Part of The Studio Door philosophy is to create an accepting atmosphere where artistic expression is encouraged to be expressed on its own terms. This is a place of possibilities where street art is exhibited alongside of fine art, where emerging artists work alongside of master artists, and where local artists can hang with national artists," said Patric Stillman, Director of The Studio Door. "Maxx understands this idea at its core. His own work across the globe has been inclusive and inspirational."
Teaming up a second time in October, Daniel and The Studio Door will be presenting a one-shot workshop, Making a Mural with Maxx. On Saturday, October 22, 2016 from 10 AM – 1 PM, Maxx will lead a team of artists to create a collaborative mural at The Studio Door. Teens and adults are encourage to participate.
For more details, visit The Studio Door's website at www.thestudiodoor.com or stop by The Studio Door (3750 30th Street) during gallery hours (Tues – Sat Noon – 7 PM / Sun Noon – 4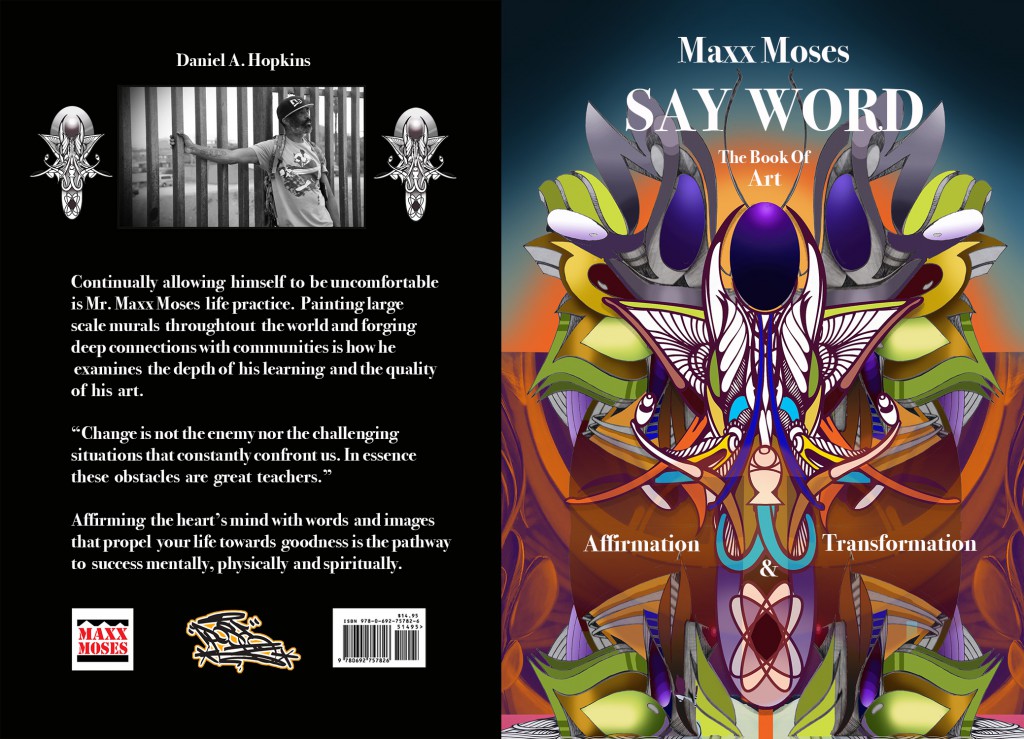 August 20th, 2016 | mrmaxxmoses
Dance for me is an important part of life. The language sound movement staging and design stimulates my thought process and informs my visual art in inexplicable ways. Dreamscapes the connection between the waking life and lucid dreaming are mirrored in dance, and vivified throughout this adventure. This evocation this tribal trance connects us to our ancestors.
For two weeks a wonderful group of 4 established Artist emerged onto the campus of Florida State University, in Tallahassee, Florida. It felt like a calling of sorts, like a divine collection of creative spirits were summed to exchange ideas not only between themselves but also, with every intricate experience and encounter along the way.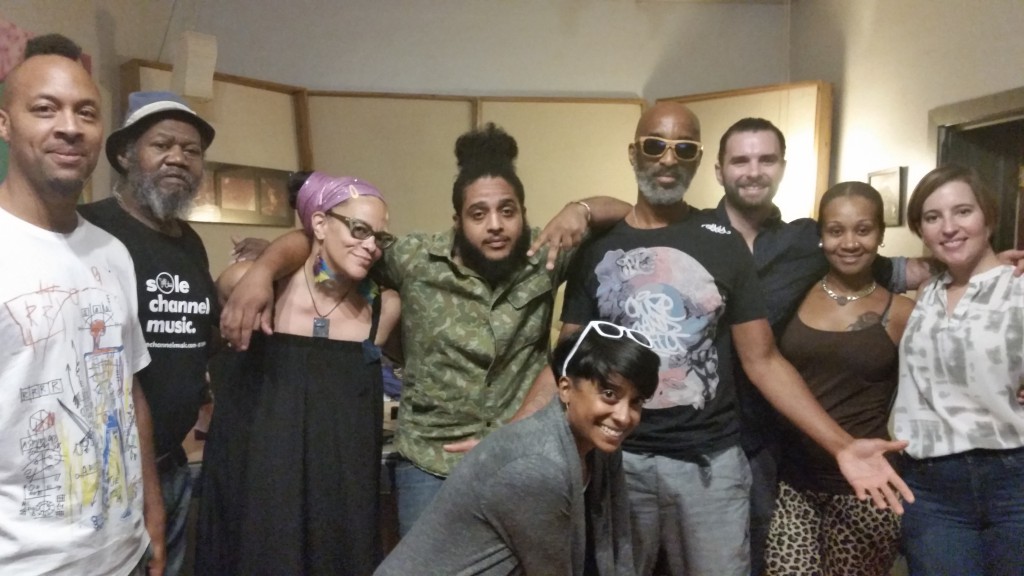 Electrogynous is the title of the trans-media dance performance orchestrated by Sabela Grimes. Well if you don't know Sabela aka Oversoul 7, you should get to know his works, this dude is an established choreographer and composer as well as a Professor at USC Kaufman, teaching Hip Hop Dance. The first time I was introduced to his flow was through "pure movement" an outstanding performance produced by the renown Rene Harris dance company in Philadelphia PA. Sabela's performance comprising of words and movement encapsulated everything I thought felt and experienced as a man, as an artist, it was personal. His work incited my spirit and enchanted the imagination I was like this brother is a problem his art speaks directly to the core.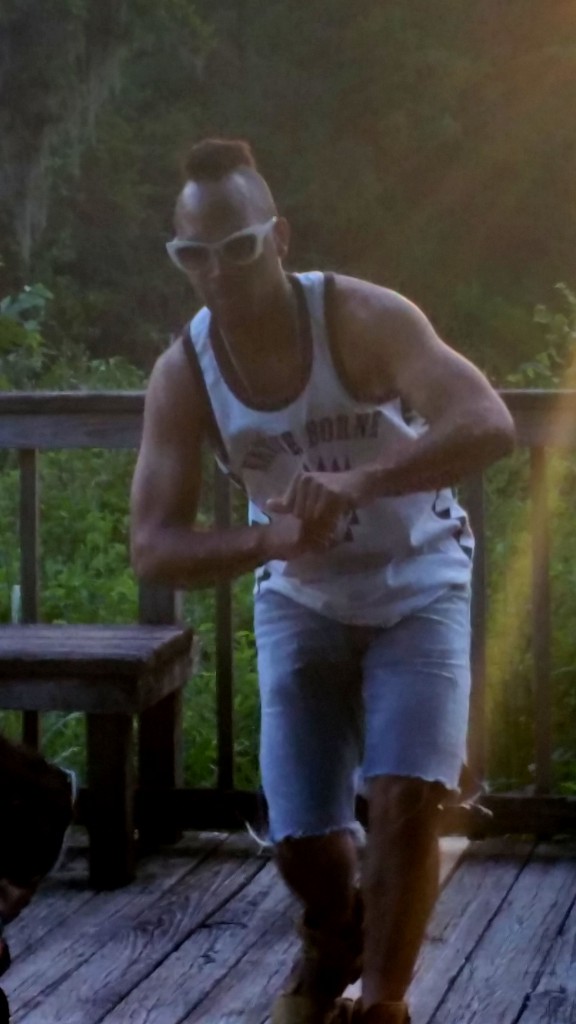 Years later on the west coast we'd periodically run into each other and often talk about working together. February 2014 we crossed paths again at the Exact Science Art Gallery, in Los Angeles. My work was part of the group exhibition celebrating Black History Month. Upon my arrival one of the first cats I seen was Sabela, he was like yo Pose, what's good? We chatted out front for a while then proceeded to go into the gallery. From the look in his eyes I could tell he was really digging the artwork. The place was packed and it was hard to have a conversation inside. Amidst the crowd we eventually stopped in front of one of my paintings. Sabela didn't no it was my work. He leaned over and said, yo man this show is dope and I'm really feeling the artwork of this cat Maxx Moses. So I looked him in his face to see if he was joking. But no he was for real he wasn't hip to the Mr. Maxx Moses persona, that I created in 2006.I laughed and responded come on man you know that's me? Sabela was like dam I've been looking at these works all night thinking I've got to collaborate with this dude. I was like guess the time has finally come? We laughed shook hands and the process began.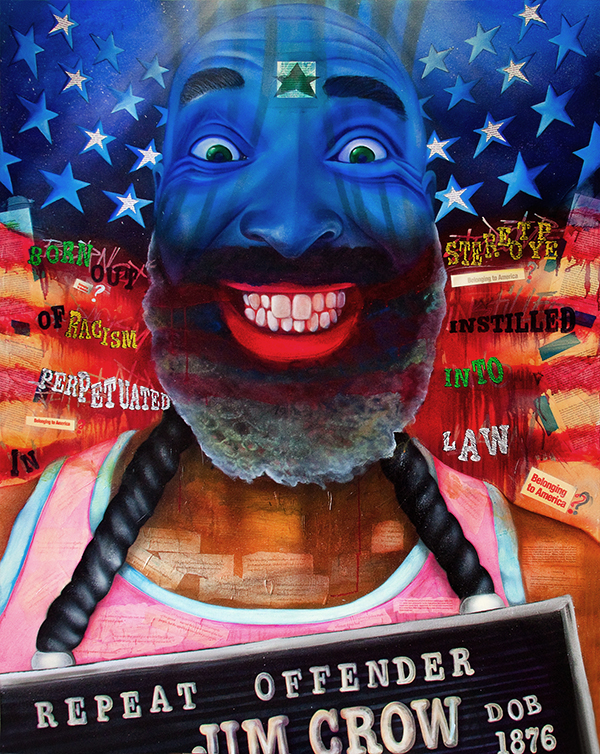 He started sharing video clips of previous Electrogynous performances and talking about how he wanted to expand the vision further by incorporating video painting and poetry. Then he told me he was including Meena Murugesan and Ursula Rucker I was like oh shit this is project is going to be baddass!
The MANCC residency at Florida State University is designed to provide space and time for professional dancers to develop and expand their visions, so Sabela brought a crew. We all landed in Tallahassee, Florida around the 27th of July and none of us really had any idea how this was all going work out. Prior to the trip we brainstormed about painting live and how to incorporate it into the show. But the idea of stretching beyond the known territory of our crafts was what this calling was really about. Sabela's wanted to use this opportunity to push his collaborators and himself beyond what we've already learned. So for me there was no paint only an Ipad and Apple pen and an app called procreate.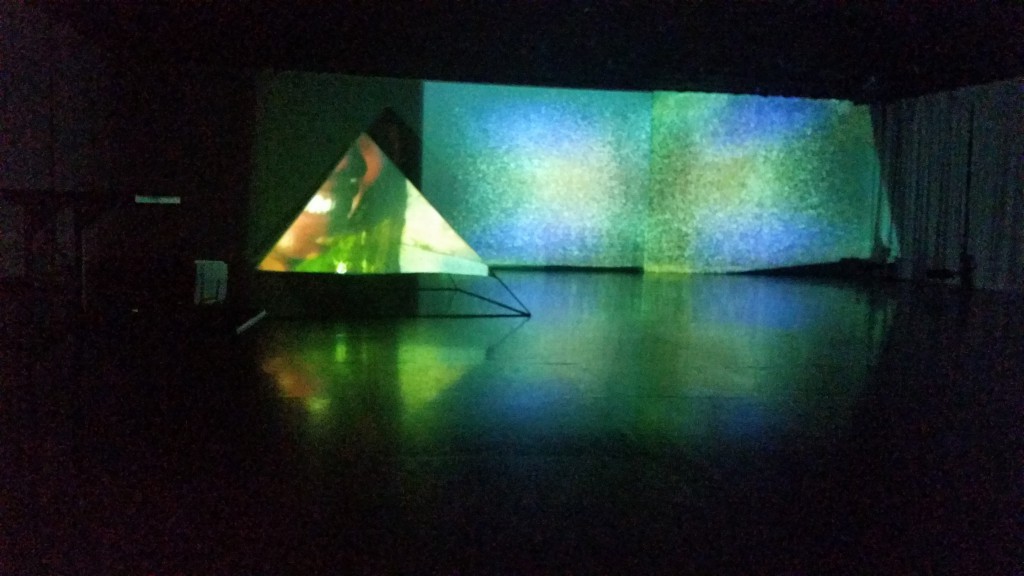 Deep inside the Black Box studio we sat divided, two Pisces's on one side and two Virgos on the other. It was interesting listening to Sabela and Ursula speak about their rich creative history and fond memories of Philadelphia. While across the room Meena and I were learning how to successfully combine video and what I now call "light painting" into a story. Listening to Sabela's sound tracks while video is being projected and digitally painted literally provided the backdrop for project.
Half way through our time a MANCC we all got on stage and sat inside the copper pyramid, which is part of the set. Here we talked about our progress and our developing creative process together. We all were being in challenged, Ursula to freestyle, Meena and Myself working with new technology and Sabela learning to work with us all.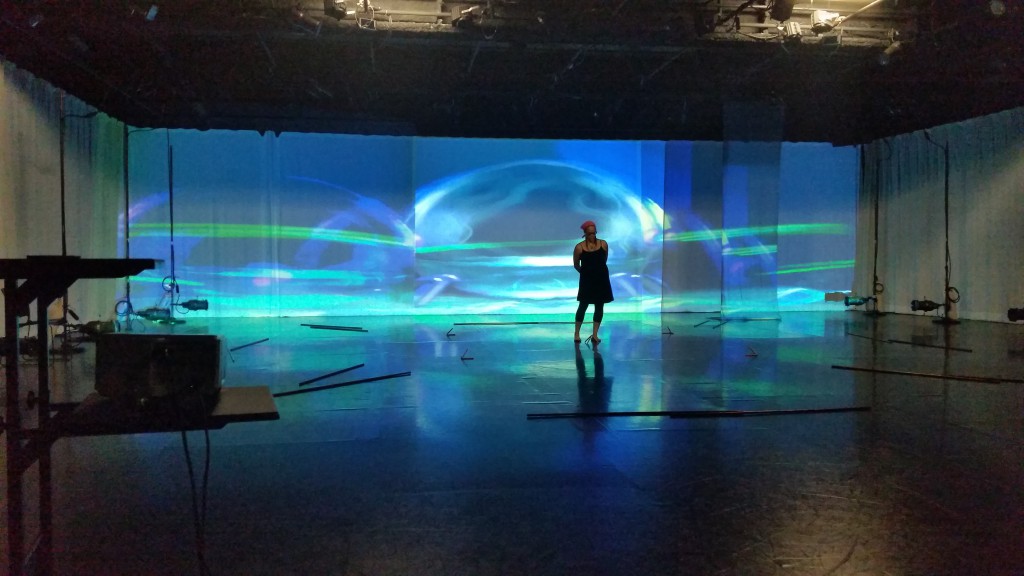 We enjoyed conversations about what Black Joy looks like? Asking that question to people throughout the city and Capturing, their smiles on film. Watching Sabela's body dance interpreting Electrogynous, which explores the notion of black male gender and questions what defines Black masculinity and the contradictions thereof? Creating imagery that visually expresses boundlessness within gender. Highlighted with the eloquent energy and magic spit that uttered from Ursula's mouth at the end of every session made it all complete. Her poetry captured every morsel of exchange throughout the day and repurposed it with a new rhythm. My most memorable moment is when she said Pose create some Art that I can write to!
As she said this I projected what I was working on to the big screen. Instantly She began to write… "Make Me A Planet… My Own Mother Fucking Planet"…
Electrogynous will be performed in Los Angeles in November 2016. Theater will be announced soon. We are all super excited to bring this to the stage. And for the grand opportunity to be working along side such greatness. Tallahassee is Magical trust.
« Previous Entries