Lebanon the trip to Tripoli
This journey began with an invitation from Mazi, of Words Beats & life, to venture across the planet to Tripoli, Lebanon and teach a Graffiti workshop and paint a mural. Mazi was like yo Maxx you want to go to Lebanon… I was like word lets do this! I've had the pleasure of collaborating with Mazi a number of times this year and each experience gets richer and deeper. However we wouldn't be alone this was a crew mission and the goal was to stimulate Cross Arts, a Hip Hop organization within Tripoli by providing them of the raw pure energy found within the elements of the Art form we love… Hip Hop. Essentially our mission was to inspire their of community, that they may propel their art and organizational skills to a higher level of creativity. So Mazi organized the All- Star team including Hodari B. Davis, Producer at lifeisliving.org, (Spoken Wordsmith) along with, DJ 2-Tone Jones, (Musician), Geoffrey Chang aka, Toys aRe Us (B-boy) and Javier Starks, (Emcee) and of course Asad Jafri, whose attention to detail, personal style and overall organizational skills was the perfect fit.
On November 6th I arrived in Beirut, Lebanon greeted by Mazi and Hodari at the hotel. We were all tired and hungry but our conversation was super rich and super deep… Hodari B. Davis is just that kind of brother you instantly bond with.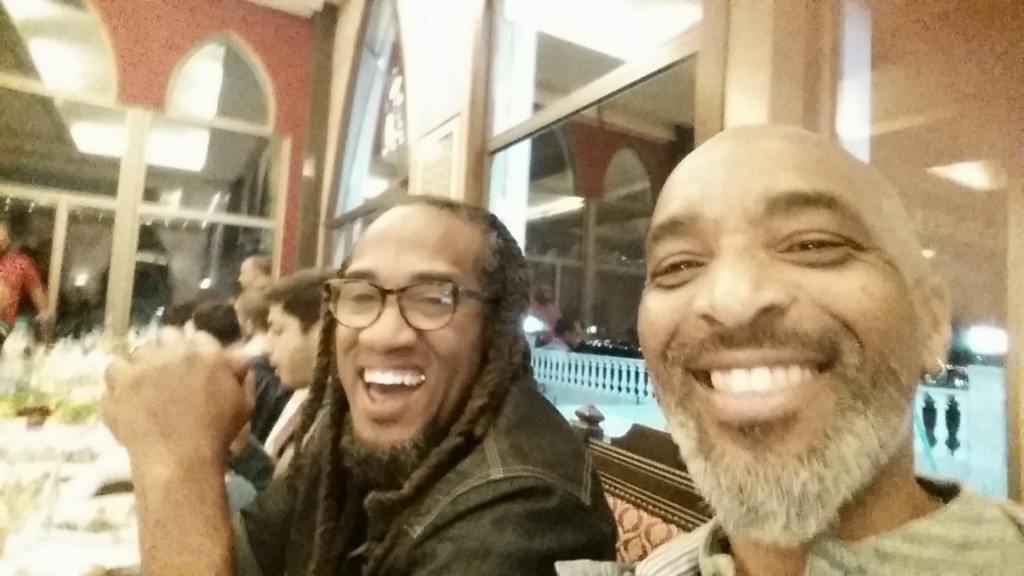 The next day we met with the organizers/sponsors of the trip. Prior to going to Lebanon there was security briefings that would have made the non-seasoned traveler totally change his mind about this trip to Lebanon. Even those I told about the trip were like word you going over there? That's crazy! All I remember my Dad saying to me was "son pray… pray a lot before you go over there."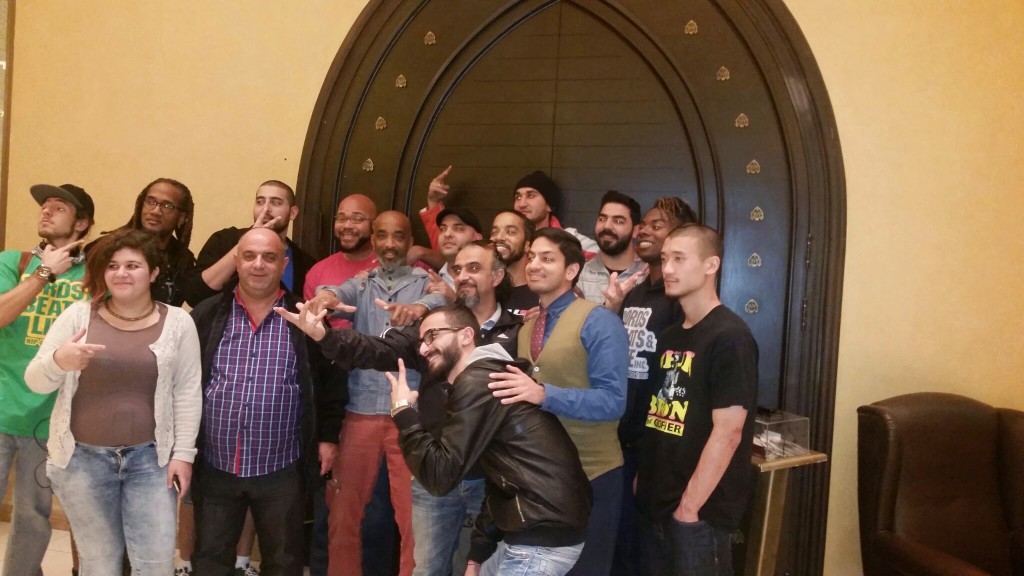 "A lot of people have bucket lists in their lives, I just kick the bucket and live." While looking at the map of Lebanon and the surrounding areas I realized two things. One, I was traveling to some ancient historical areas what used to be called Mesopotamia. And Secondly Egypt was only 1:30 minutes away from Beirut. My spinal cord electrified when I knew it was now time to travel to the land of the Gods and Goddesses, my ancestors.
Creatively, for this trip I wanted to return back to my roots, lettering/Graffiti the art of writing your name, for two distinct reasons. First and foremost I wanted to leave a remnant of my style in that part of the world for the youth to see learn and grow from. Secondly I wanted to pay homage to the art of writing, and the God Tehuti the creator of such.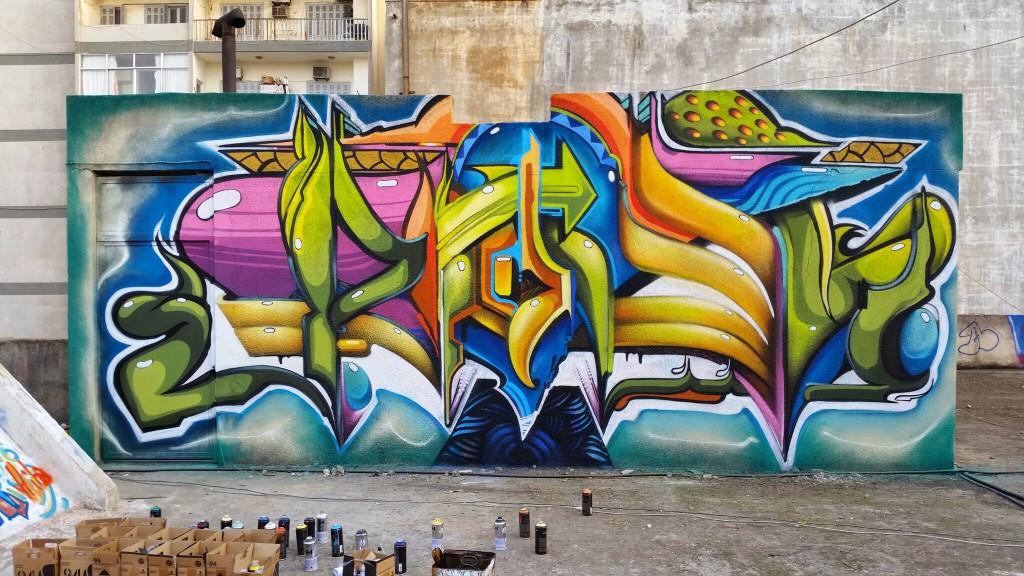 After the meeting it was off to get some paint in preparation for Tripoli. We were guided to a spray paint store in Beirut, that happened to be the official MTN distributors in the country. Oras and Wyte greeted us like Kings; we purchased a grip of paint and headed off to Batrun, Lebanon for the Words Beats & life/ Cross Arts seminar.
Upon arrival we were enthusiastically greeted by the entire crew from Cross Arts, they were so excited to have us come to their country I could hardly put my bags down. The painters were anxious to show me their works and paint together. But we were hungry and travel weary… where's the food? Seamlessly we were ushered to the elaborate dinning room accompanied with a spread of delicious vegetables, hummus, breads, shish kabob and fruits, pure lebanease style… and of course we smoked shisha after that.
The Next several days were purely dedicated to exchange, ideas cultural differences and particularly the Arabic lettering styles. Our group was challenged to take an even closer look at our approach as artist from America. I didn't want to give the idea or impression of a Christian Missionary, coming to tell you that all of what you are doing is incorrect so adapt to my way of doing things or your doomed! I simply wanted to dialogue with them on a creative vibe so we could truly learn from each other… and this we did to the fullest.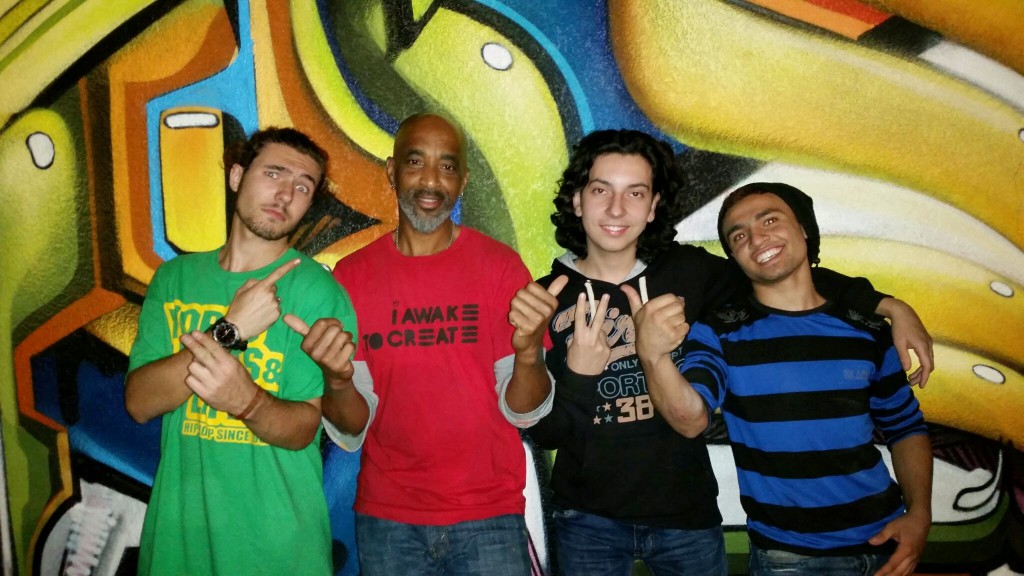 Comments are closed.