Liquid Harmony
This March 2010, SEDC commissioned collaborating Artists Todd Stands, Miguel Godoy and myself Maxx Moses aka Pose 2, to embark upon a 400 long 1600 square foot mural titled liquid Harmony located at the 62nd Street/Encanto trolley station. As we developed our concepts for the wall it became evident that our goals were geared toward illustrating the power and vitality of Cholla's Creek and it's endangered habitat and wildlife.
The Cholla's creek is a powerful water source that runs throughout the southeastern region of San Diego and on a local scale symbolizes the importance of water. By raising awareness of the creek and its benefits to the community through our art we hope to foster the care of this rich natural urban resource by the residents.
The collaborative process of artists is a powerful tool used to forge individualistic ideas into a unified vision. Each artist involved in this venture offered a unique skill that lent itself to the specific task of making this project a huge success. Throughout the last 2 years Miguel Godoy,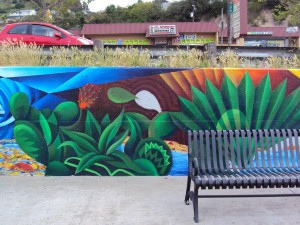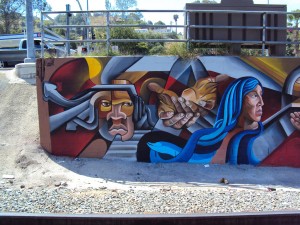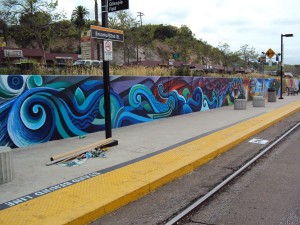 has made a strong impact upon Imperial Avenue with his unique style and imagery illustrated upon numerous painted utility boxes. His participation in this project extended the visual conversation already taking place within this community. Todd Stands,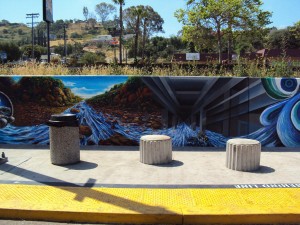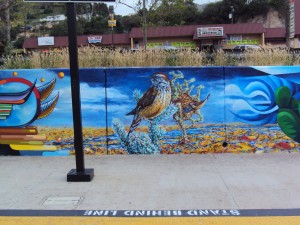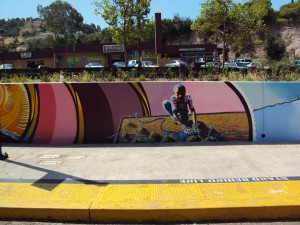 is a working artist in the Cholla's Creek neighborhood. His 25 years of mural painting and public art experiences are often based on youth workshops and collaborations. As a professor at Southwestern College, he has the opportunity to work with a myriad of emerging artists thus enhancing his ability to unify ideas and visions of groups of people cohesively. These skills will galvanize our collection of youngsters and artists for this endeavor. His passion for the natural world and years of environmental work is a perfect marriage for the overall theme of this project. Pose 2 aka Maxx Moses, is an internationally renowned Graffiti Artist and Concrete Alchemist.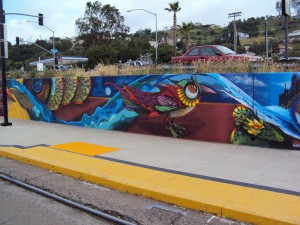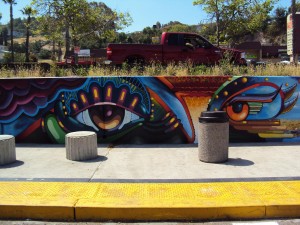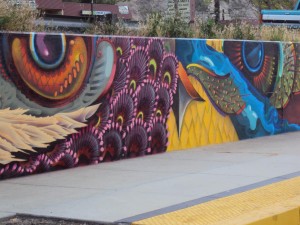 His years of experience as a painter, Art Educator, and community activist are the components that Attracted SEDC to seek out his services and head up this project.
The overall project was a pleasure to create but ended in a total wreck! On the final days of painting Maxx Moses car was painted directly across from the mural. "This morning I woke up meditated and went the wall in a state of utter calm he states, headphones on dancing and painting when suddenly I hear a loud screeching noise that ended with a big bang, I know that sound it's the echo of a car crash. Slowly ever so slowly I turn around to witness a car smashed into the side of my Chrysler". I walk up to the scene and suddenly the woman jumps out of the car yelling that she is sorry, so sorry. " Is that your car I'm so sorry I was distracted so distracted by your mural that I took my eyes off the road and ran into your car". She was visible shaken and truly sorry I just couldn't me mad in fact it was the weirdest and most sincere compliment to date. So there you have it, the ending of a project and the ending of my car… yes it was a totaled!
Comments are closed.