The Internal War
Thursday, May 23rd, 2013 at 6:31 pm
INTERNAL WARFARE… in search of a cure
Maxx Moses
When James Lowder, of Prometheus, contacted me to create a painting for the companies trade show in June I didn't know what to expect. Upon our first meeting he shared his knowledge about cancer and explained how cancer cells invade the body and trick the healthy cells to take on the self-destructive cancerous virus. Listening to Jim speak was fascinating, he talked about Prometheus, the company and the process of immunotherapy, which stimulates the immune system into overdrive to help fight cancer. While dissecting his conversation I discovered an interesting correlation between Cancer, a known disease that millions of people are dying from and colonialism. Humanity is suffering from internal and external warfare. For at least the last 2013 years the power of the gun has determined the destiny of our civilization. An honest look at the disease and warfare that plague humanity should reveal that the concept of power as a means of survival is self-destructive. Has the influence of war become so infectious that we ourselves can't recognize it as a disease? When killing one group of people for the supposed benefit of another is deemed justifiable what have we become? Inside of the body this is recognized as Cancer. Hence the notion of my correlation between Colonialism and Cancer the micro macro war upon humanity.
Before James and I solidified the financial details for the painting, my mind raced onto visual concepts of an internal war of colors layered with texture depth and contrast. Jim sent me countless videos on cancer and immunotherapy, which helped influence my ideas. I began to read the European, medical researchers accounts about Ancient Egypt's study of Cancer and their testimony stated that the Egyptians, (an highly advanced society) were very aware of cancer and resolved that there was no cure for the disease. I thought and asked myself if Egypt, this advanced society couldn't cure cancer, could we cure it? I have always been a seeker and presently I am a student at the Earth Center, a school dedicated to Kemetic (Egyptian) philosophy and spirituality. As I thought more about my correlation I reflected upon one of my first semesters classes based on the principles of Good and Evil. In class we learned that evil is the most dynamic and powerful force in the universe, it is indestructible it cannot be killed only contained. Wow I thought this sounds much like Cancer. We also learned that Evil can change its shape and form at will and has the capability to spread rapidly. Ironically Jim expressed how intelligent Cancer was, that often medicines do work to stop its growth but unfortunately Cancer has the ability to transform mutate and out smart medicine and therefore may continue to spread within the body. As Jim continued to explain Immunotherapy and the process of healing cancer, the premonition of my correlation gained more relevance. Jim summarized our conversation by stating that once cancer enters the body (outside of cutting it out) the best that can actually be done is to contain the cancer to a specific area of the body. Similar to what the ancient Egyptians said about evil, its a powerful force that cannot be killed, only contained.
Armed with an inspired filled mind I immediately sought out David Lasher from ECOR, an environmental company specializing in recycled materials. Within 30 minutes of arriving at the ECOR show room Abby and I designed the panels for the Prometheus mural. I wanted the panels to have depth and structure built into them.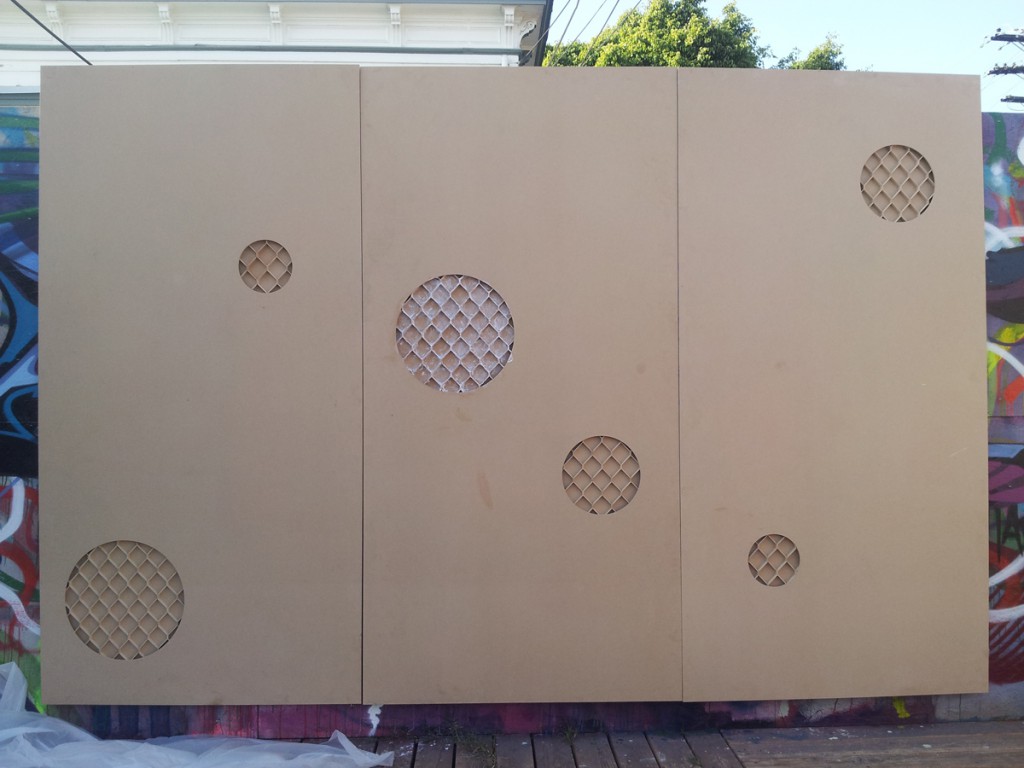 The materials that ECOR provided allowed me to infuse inlayed 3-d effects that gave the impression of cells. How cool is that? My next challenge was to develop a creative process, in order to obtain the look and feel of transparency I knew my methods had to remain organic and the painting effortless. In one of my latest sketching sessions I drew some organic matter that I thought would work well for 1/3 of the painting. Once ECOR delivered the panels I photographed them and made a color copy. I completed my original drawing upon the copy and although only 1/3 of the sketch was complete I realized what my over all process would be, "Organic Technology"… I was ready to begin.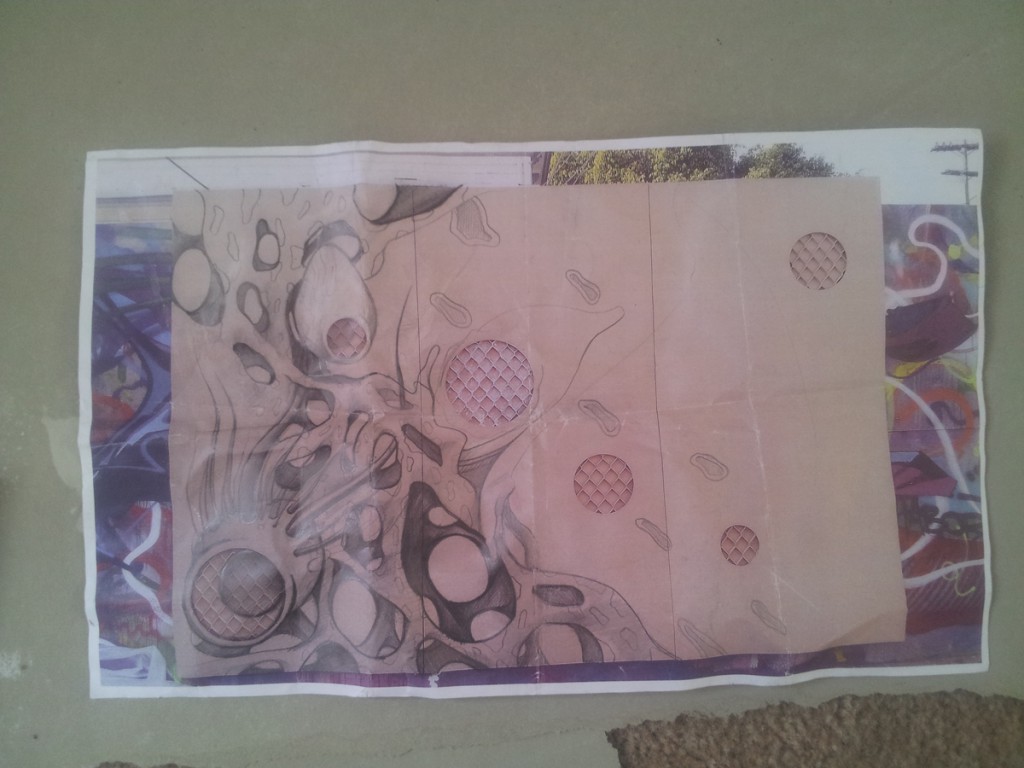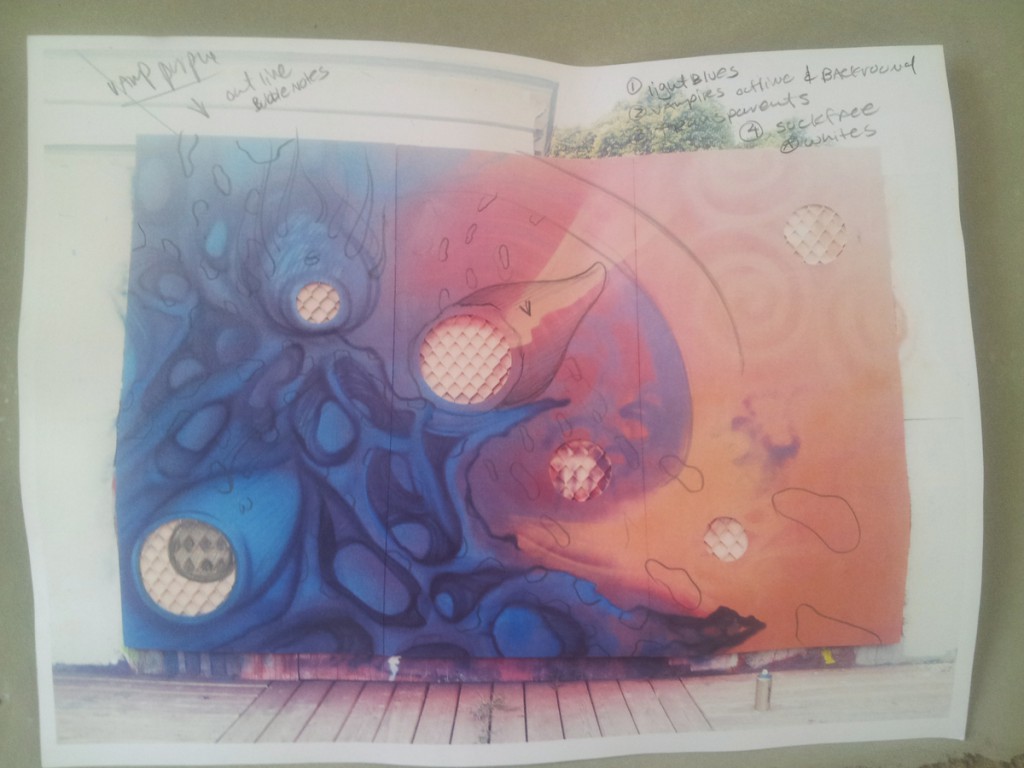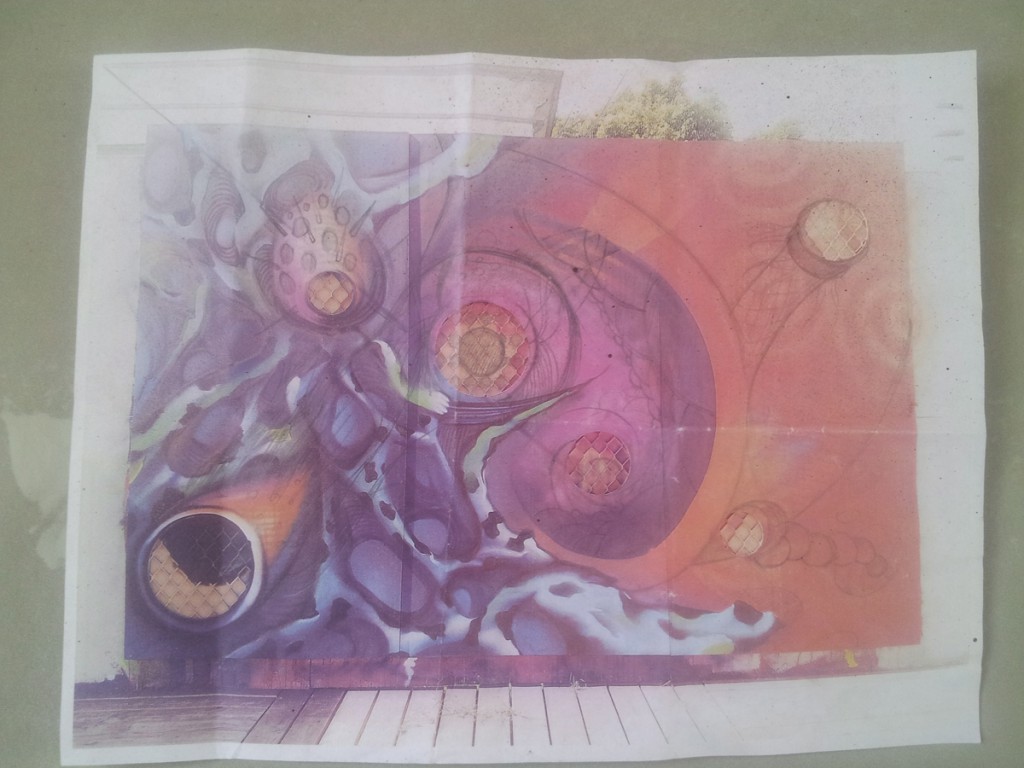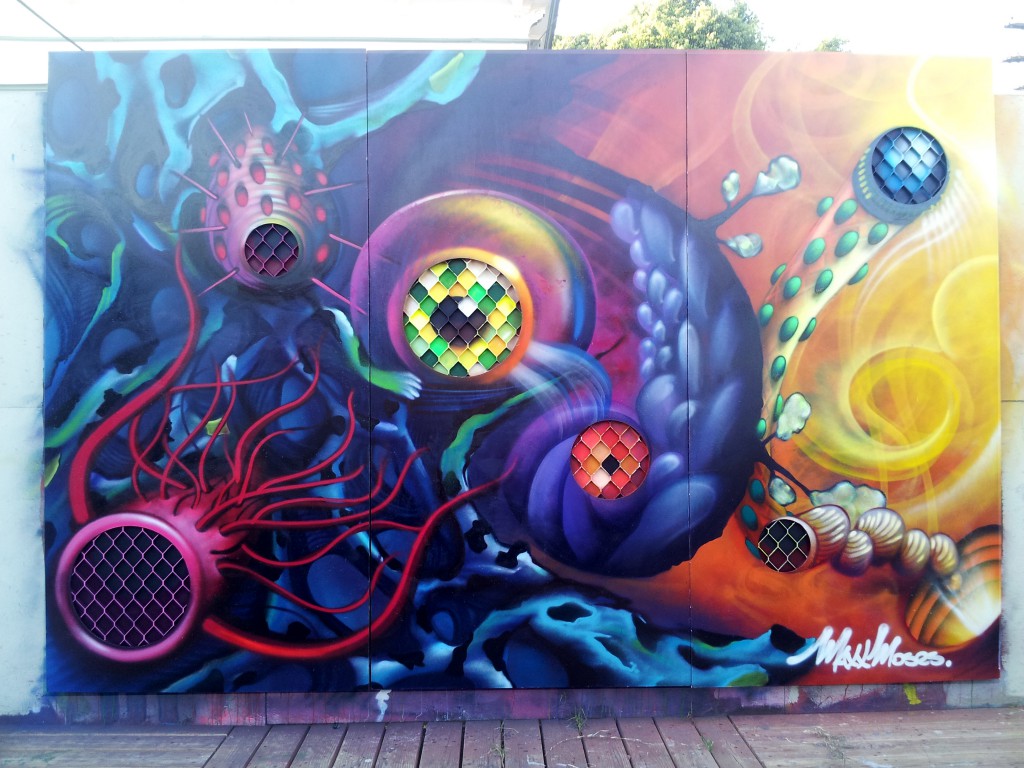 Each day of painting would be effortless, nothing would be over worked, not a single line. Once the days painting was complete I would photograph the outcome, make a digital print and then draw upon the copy for the following days painting. Fortunately I was given enough creative freedom that I didn't have to present a finished sketch before painting. I thoroughly enjoyed this process it was as organic and fluid as the human body, while keeping me totally engaged, day and night.
My life as an artist is filled with introspection and resolution. I learn my craft and the world around me through my creativity. Occasionally a project appears that offers me an opportunity's to explore new materials and create new processes. Most importantly are the people we meet along the way whom spark our intelligence and in some strange way our life's experiences get woven together warmly and all the abstract pieces contrast so beautifully together. Upon this happening you gain clarity, your life's purpose and all that you are doing makes sense.
Refusing to face reality doesn't eliminate it, but simply turns the refusing human being into a primitive animal on Earth. –Master Naba
Tags: AERSOL ART WITH STUDENTS, cancer, Concrete Alchemy Tour, graffiti, immunotherapy, international art, Maxx Moses, mural, murals, painting, pose2, projects, prometheus, public artist, spiritual, spray painter, tradeshows, transformational, travel, video, world, youtube
Comments are closed.