At the end of 2016 Qswimwear approached me about creating a Maxx Moses, collection of swim suits. I was excited about the idea about having my art transferred onto swimsuits, my mother would've been proud of this accomplishment, she loved swimming and encouraged my brother and I to become good swimmers.
Initially the collection was going to be created from photographs of murals I created throughout the world. It was these images that attracted Fernand, the owner of Qswimwear to my art in the first place. However, some of the images didn't translate too well from the walls onto the swimsuits, they just weren't sharp enough. Fortunately, I had just completed a series of illustrations that told stories of my many global travels that I felt were filled with inspiration and imagination. With the help of fellow artist and photographer, Jinny Zola's the art was successfully shot and the collection was put together in a matter of weeks. We now have 14 different styles for this first collection. Each suit has a name and each name has a meaning that tells a brief story about the art.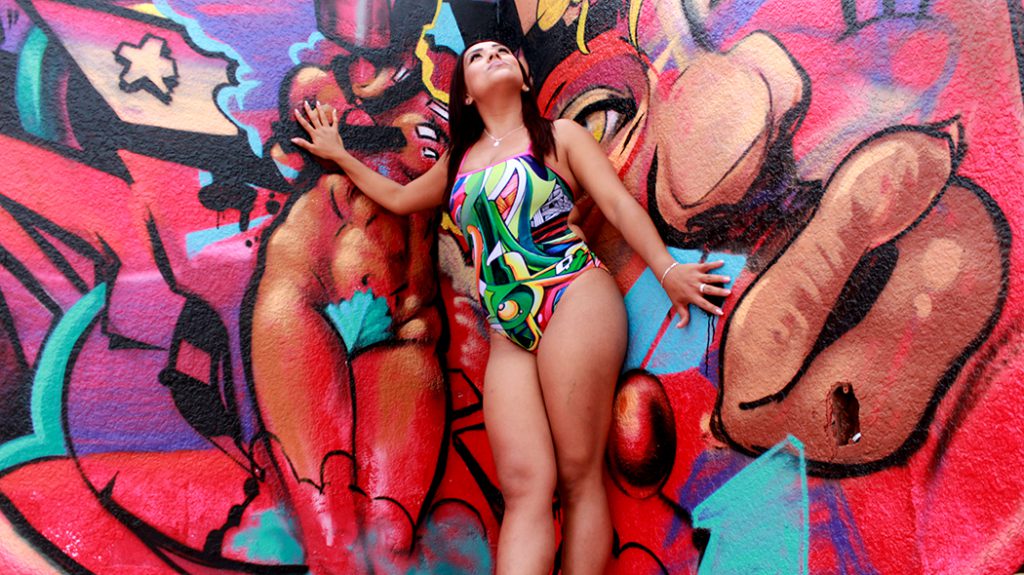 Look online now at www. Qswimwear.com artist collection, Maxx Moses to view entire line of swimsuits, shorts, T-Shirts and more.
PS… Many people have been wanting to purchase these items in XXL and XXXL yes we have your size. However, there isn't a tab to click on the website. so call your order in directly for plus sizes to KARLA at. 619 677-2050
Wall art by OZ FUA, photography and model credits go to Christian Jimenez.
Comments are closed.