YOGA POWER
Friday, April 29th, 2016 at 3:11 am
The power of yoga
Yoga, meaning union is one of the most valuable things I've learned in this lifetime. I remember my very first class at Chula Vista Yoga, I lasted about 15 minutes then I sat on the sidelines tired and amazed looking at all these men and woman, older and younger pushing through that 1 ½ hour of class with strength grace and poise. This practice, of controlling your breath while pushing your body and mind through difficult poses reshaped me from INSIDE OUT.
So many good things sprouted from practicing at Chula Vista Yoga Center a healthy body and mind, good relationships and of course the opportunity to create art. In 2006 I met Kristyan, the owner and master teacher, he and I instantly developed a bond and appreciation for each other's craft so we decided to exchange our gifts. I paint his studio and he teaches me yoga… there was no money involved.



Around 2012 some thirsty kids destroyed 4 murals in Chula Vista including mine. Every time I fixed it, it got destroyed again. So I let the ugliness live until 2013, when the new owners Maria and Joe, took over the studio and vowed to honor my lifetime yoga agreement. I wanted to maintain my side of the deal so we decided to create anew mural.



Chula Vista Yoga has a great reputation for its teachers and training program and a few years ago my good friend Eddie Bustamante completed his teacher-training certification. This year Eddie invested his enthusiasm skills and dedication of yoga into his own studio, Kula Yoga. The birth of his new studio is an extension of the love and support we've shared over the years for each other and the practice of yoga. Eddie stepped to me early in the developmental stages of his studio saying that he wanted me to create something special for his new space, a place that would attract the next generation of yogi's. Thank you Eddie for the opportunity to create"ROCK STEADY" and for opening the doors to Kula Yoga…Namaste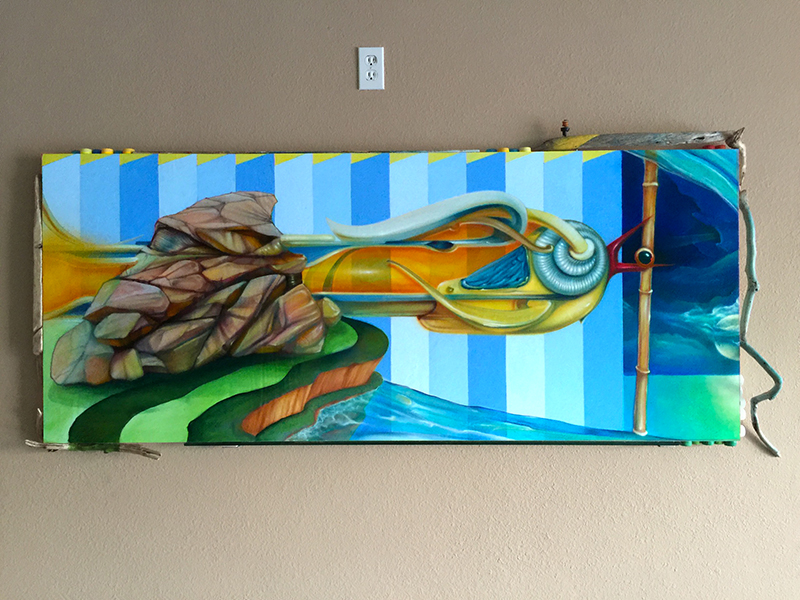 Tags: HIP HOP, international art, Maxx Moses, projects, SPIRITUAL ART, transformational, VISIONARY, YOGA POWER
Comments are closed.