October 30th, 2015 | mrmaxxmoses
last weekend I had the pleasure of working on the @Smartcartourusa, which stopped in downtown San Diego. Loads of people were on site enjoying the music, craft beer and of course the art work.
I (maxxmoses) was invited to participate and paint live digitally on an infrared system of light and digital spray paint. The cool part was that while I was painting onto the screen the art was being projected onto an even larger screen in the middle of the event at . It was cool hearing the crowd response as I was painting. It was truly a blast even my 4 year old son got to paint!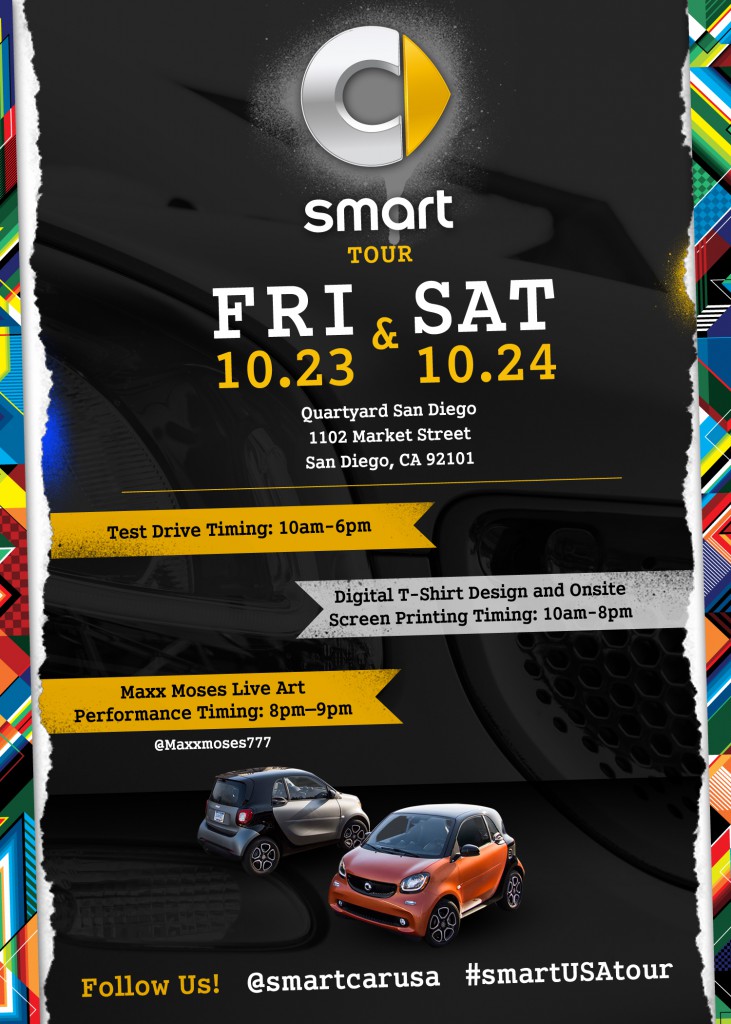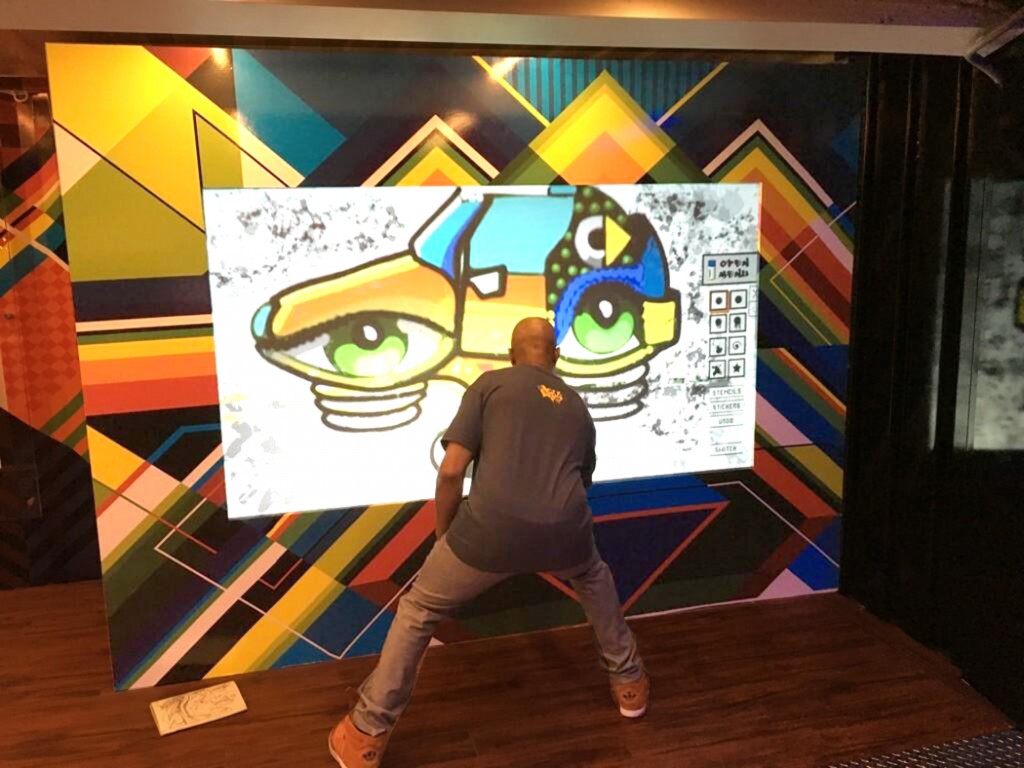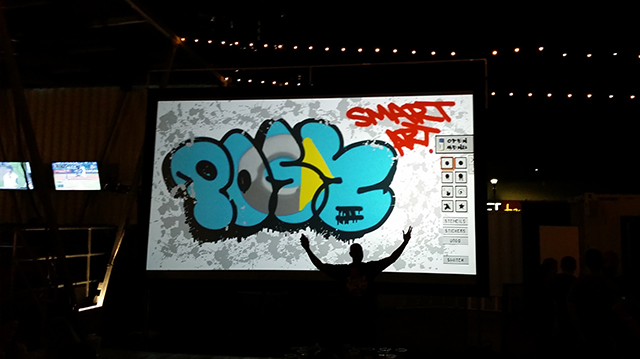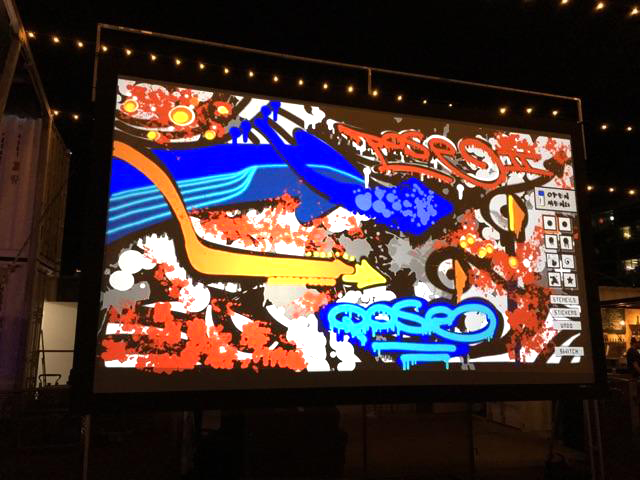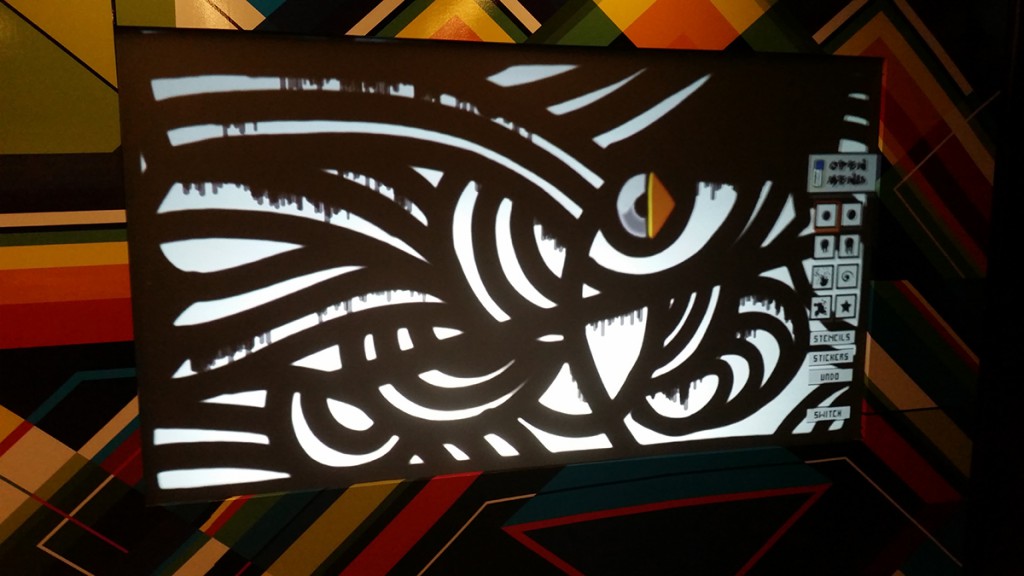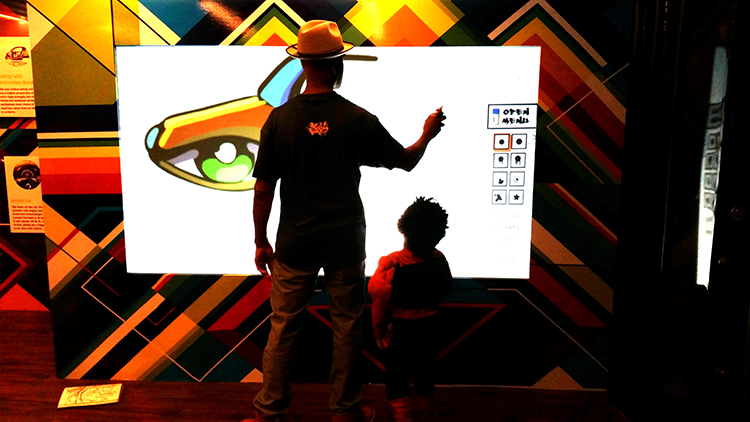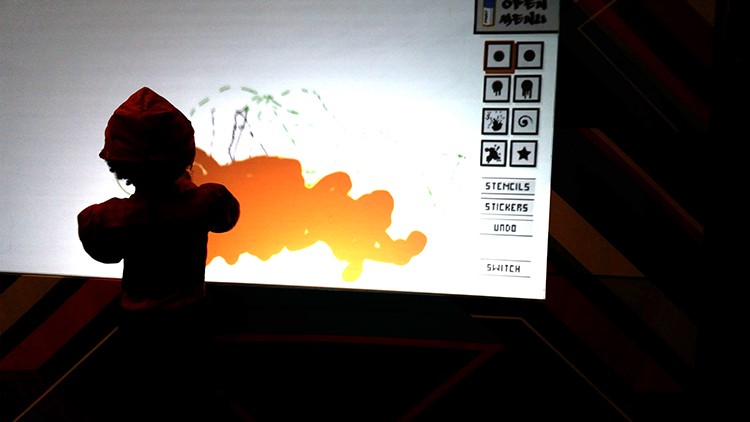 October 27th, 2015 | mrmaxxmoses
Last weekend I travelled back to Houston Texas, for the HUE Mural Festival and this time I brought my family along. We all had a great time Houston is a warm city with loads of southern hospitality. I really have to acknowledge Gonzo and his family for all of their hard work in making this event a huge success. A special thanks goes out to my dude Deck, Flip and Kween for their added love and support. Dam I can't forget Pilot, who got me my paint! All in all Texas is becoming another one of my hubs for painting, family and pure goodness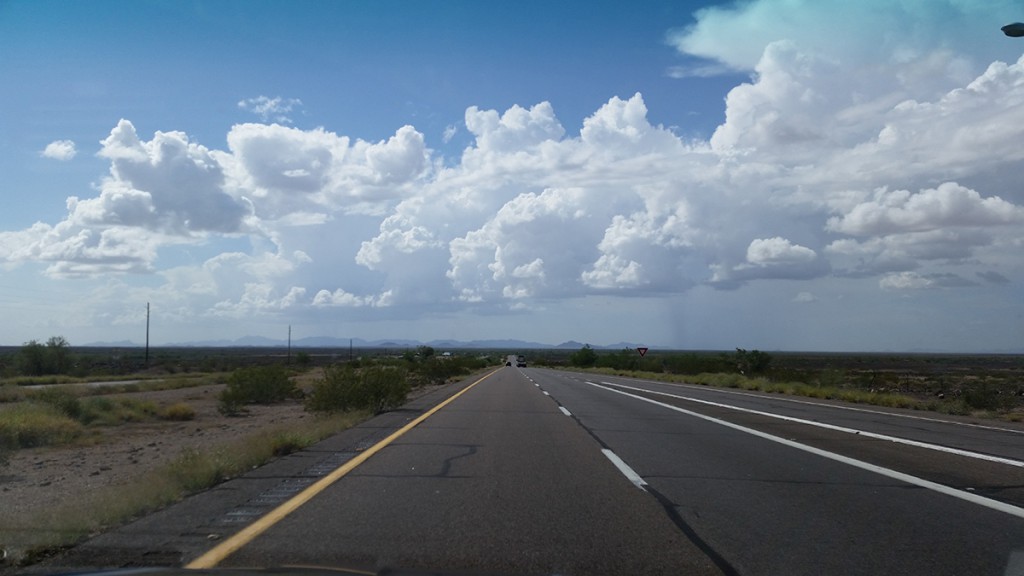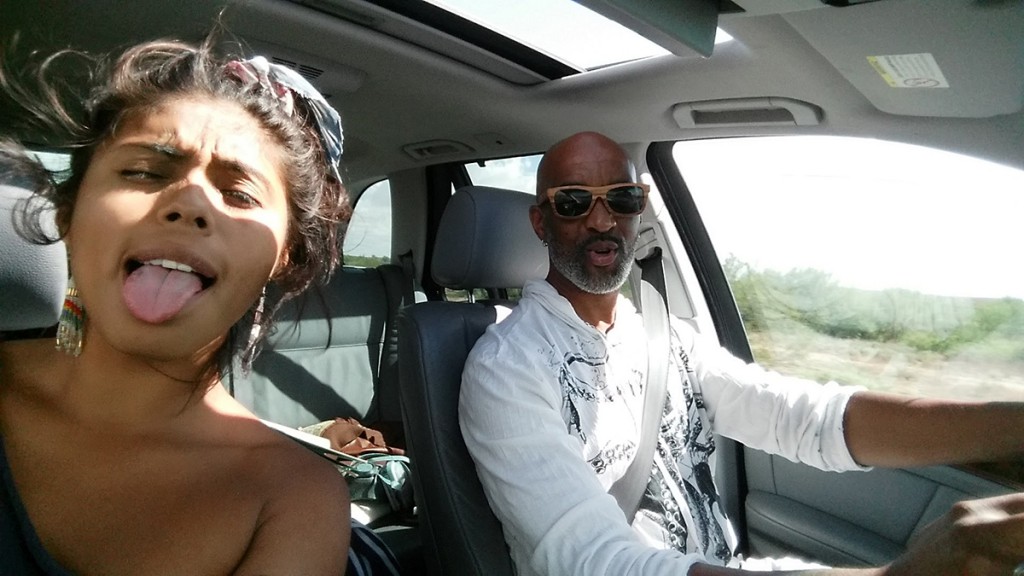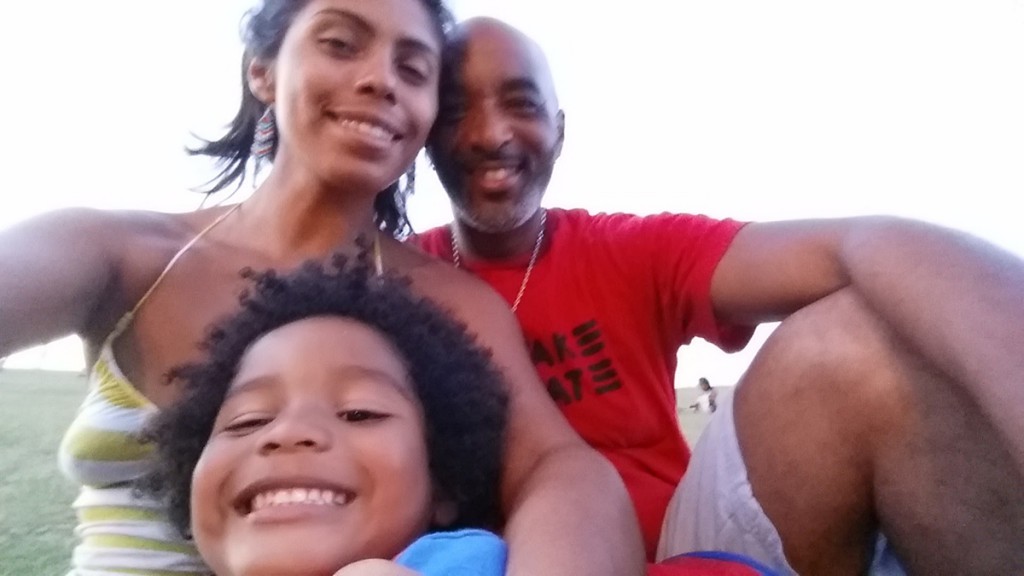 For this outing I wanted to do some "Pop Art". So I reached back to my childhood and remember Wonder Bread. I always liked the packaging, primary colors and design. I began just drawing as usual and a face began to emerge then the lettering, WONDER. I knew I would use all the red yellow and blue bubbles around the image but still didn't know how I would tie it all together to be a cohesive mural. During the sketching process I was having a conversation with a fellow artist and money kept surfacing as the most important thing. It irritated me that we as artist have become so engrossed about money. Don't get it twisted I enjoy painting and earing a living for what I do but dam I never want to forget the reason I became an artist in the first place… thus the inspiration for the caption…
THEY WONDER HOW MUCH BREAD THEY CAN MAKE…
I WONDER IF I CAN MAKE A DIFFERENCE!
MAXX MOSES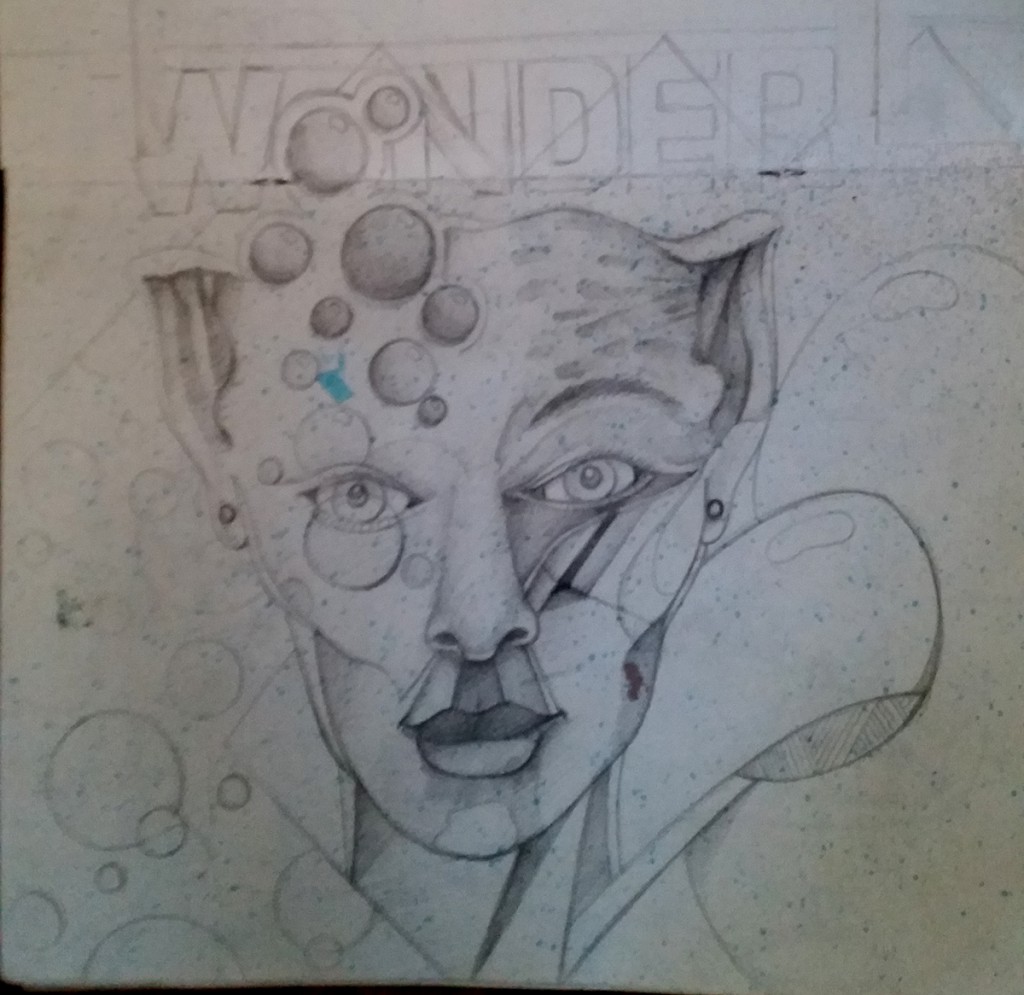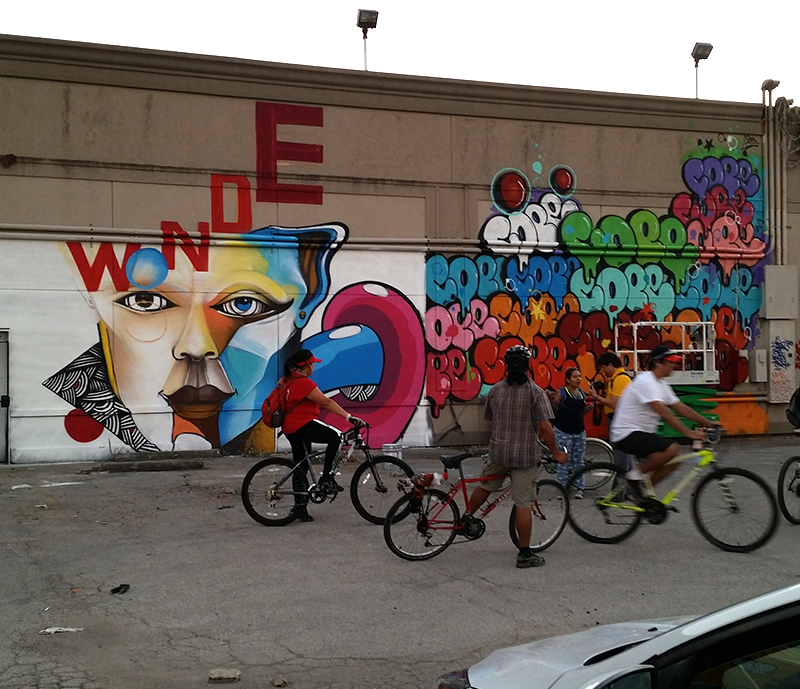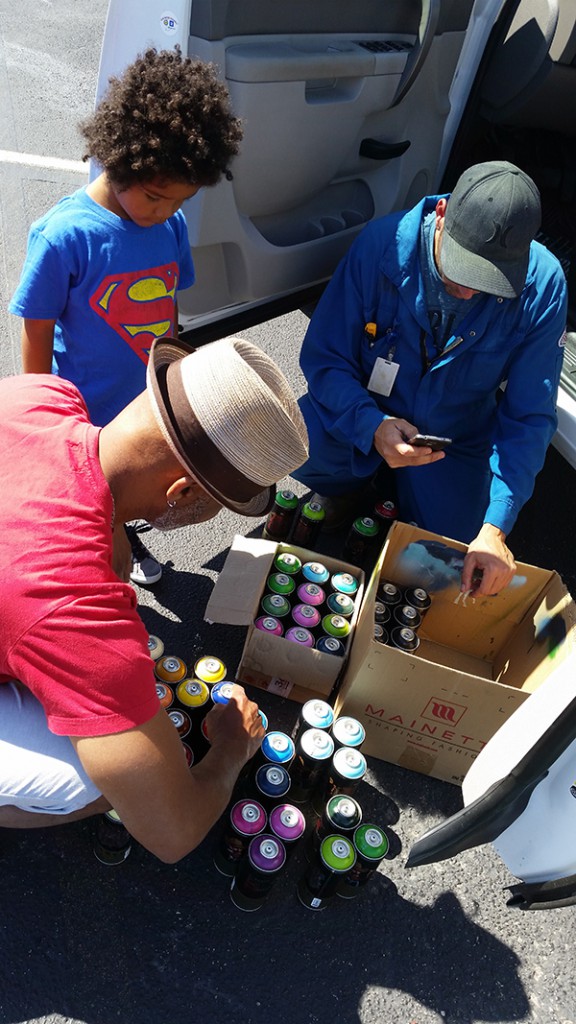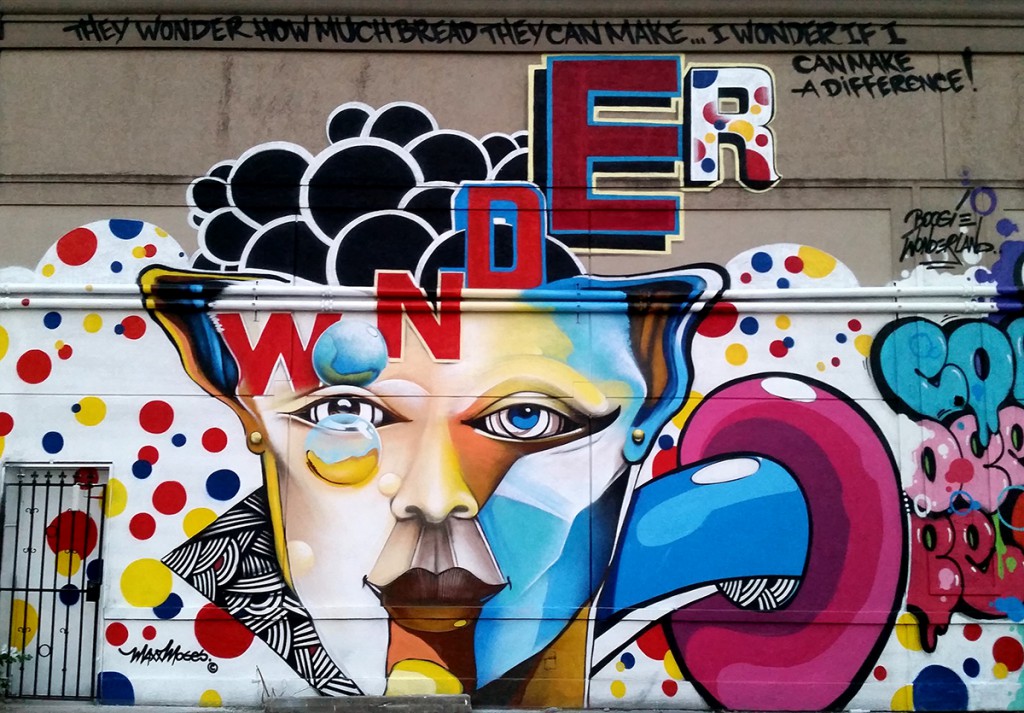 October 10th, 2015 | mrmaxxmoses
In 2012 with the help of Words Beats & Life I had the opportunity to create 2 murals for the Angelika Film Center in Fairfax Va. On this project I flexed two of my favorite styles, "Alphabet Soup" and "Symetrix" "Alphabet Soup" is all about Graffiti letters randomly distributed with colorful design to bring balance. The first mural downstairs around the elevator is where is used this style to say the word Angelika. Using this style the viewer is always intrigued with the challenge of finding all the letters in the word and I have a blast creating new ways to shape and bounce the letters into form.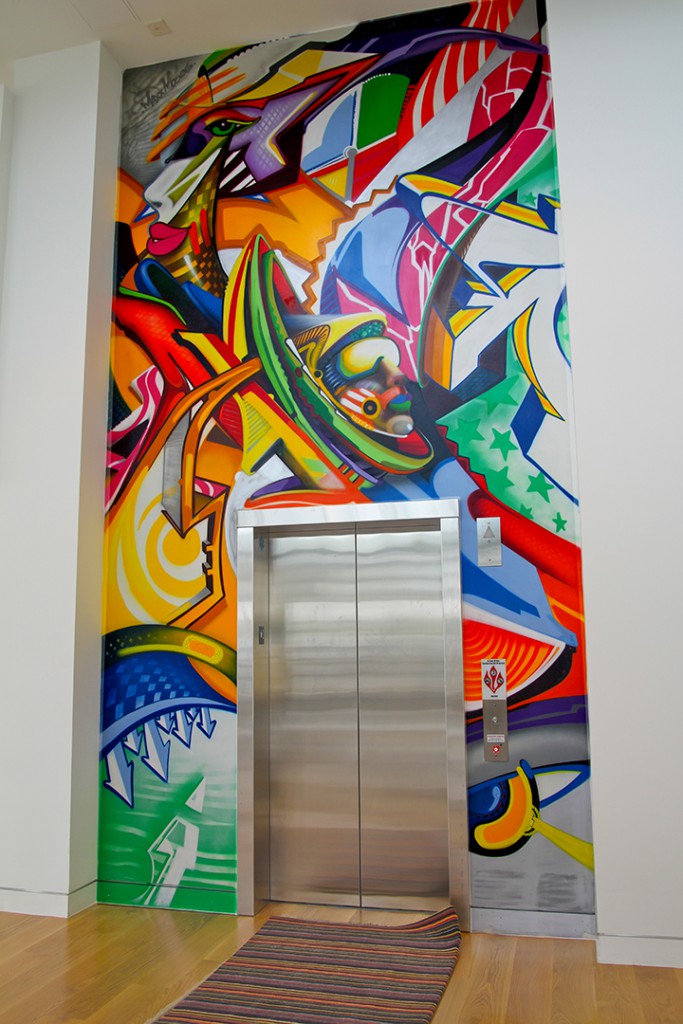 "Symetrix" is the style born from observing and painting Butterflies. Since moving to California nearly a decade ago I've been surrounded by these beautiful creatures and thus influenced by their grace balance and design. Upstairs in the lounge area I've infused the design of a butterfly with human form and surrealism, which has become iconic Maxx Moses imagery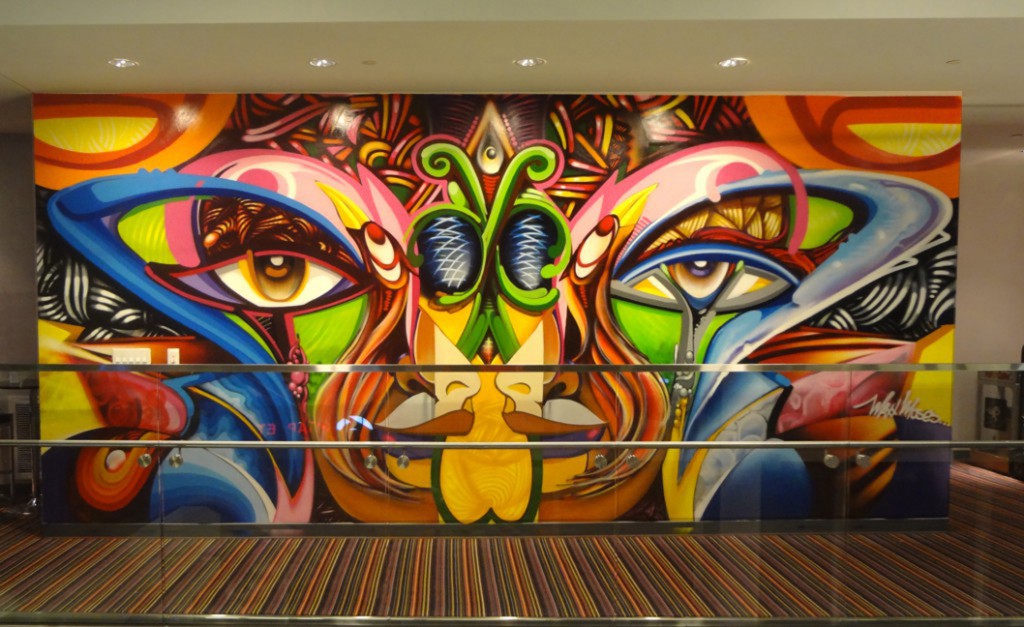 This year Angelika has opened a new theater in Carmel Mountain, San Diego and they asked me to return to paint two murals once again. The first wall is upstairs in the lounge area and spans 70ft across 9ft high and is simply titled The Magic Projection. The inspiration for this wall is based upon the idea of movie making, perception, nature and my 4, year old son who while painting at home kept repeating the word Magic over and over again! I thought to myself yes painting is magic and movies are moving paintings. The Magic Projection also incorporates the alphabet soup style, keeping it consistent throughout the theaters.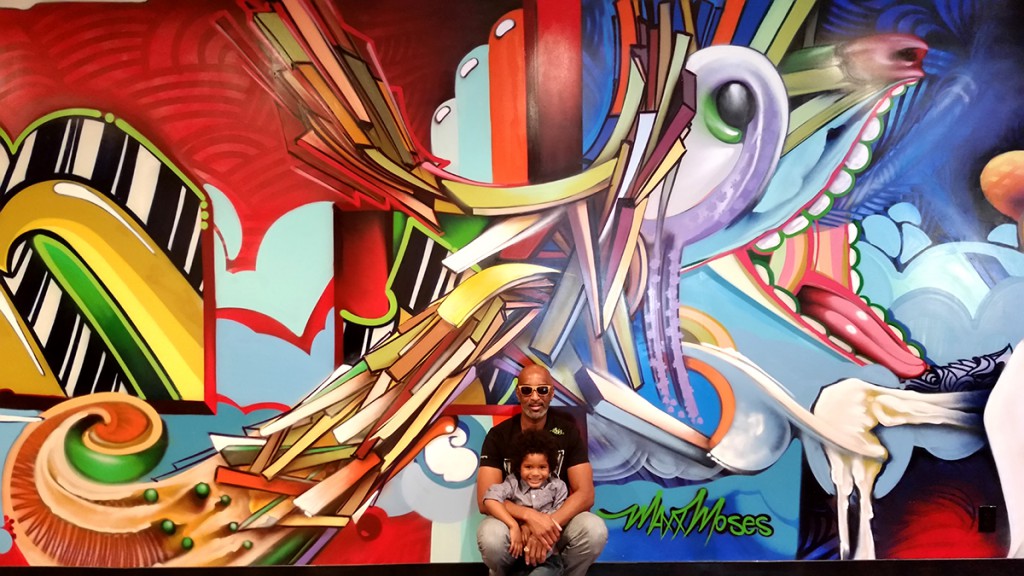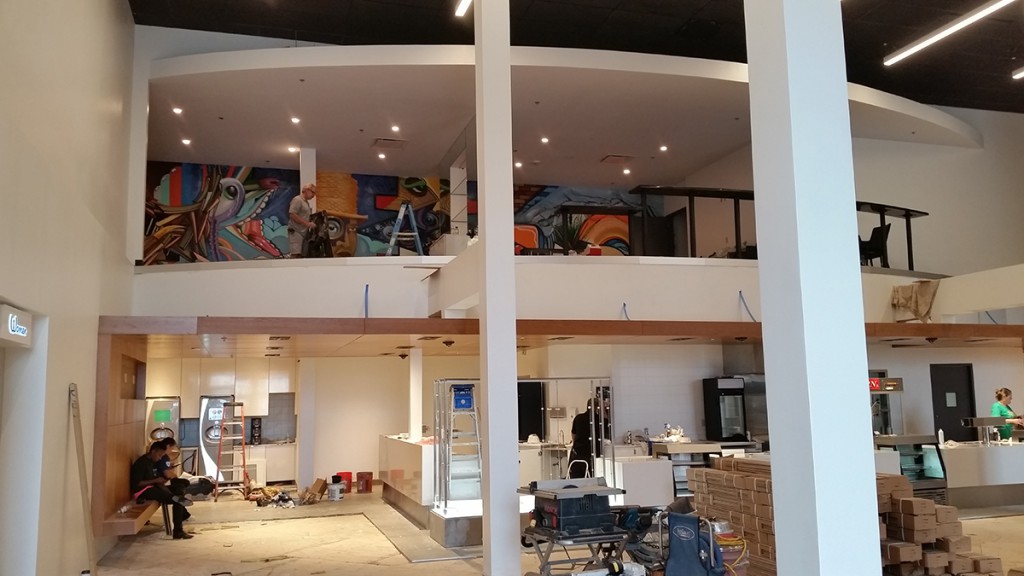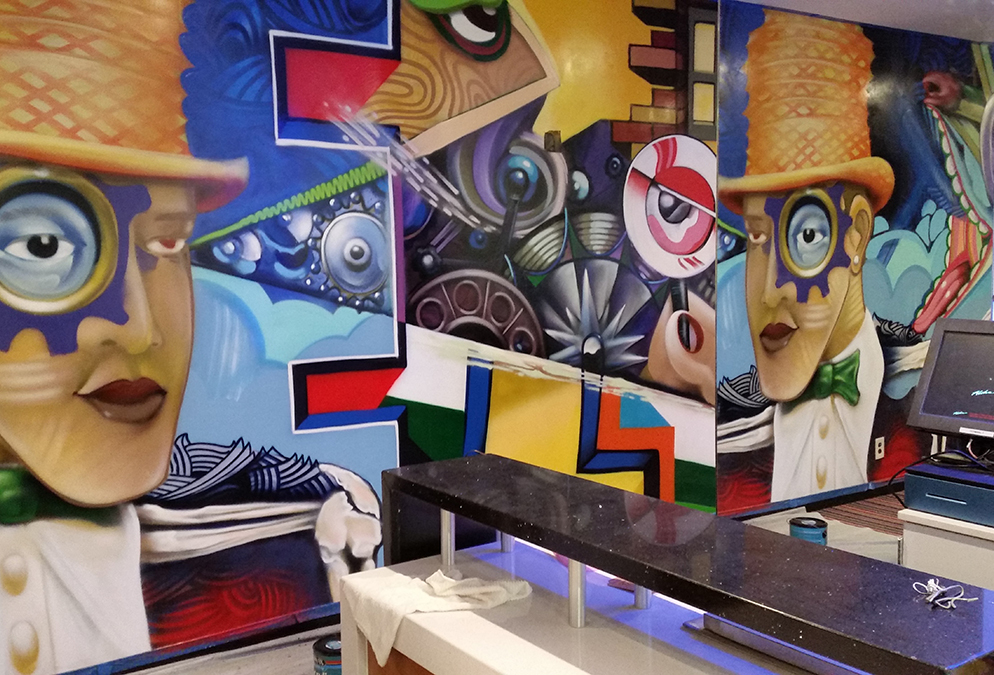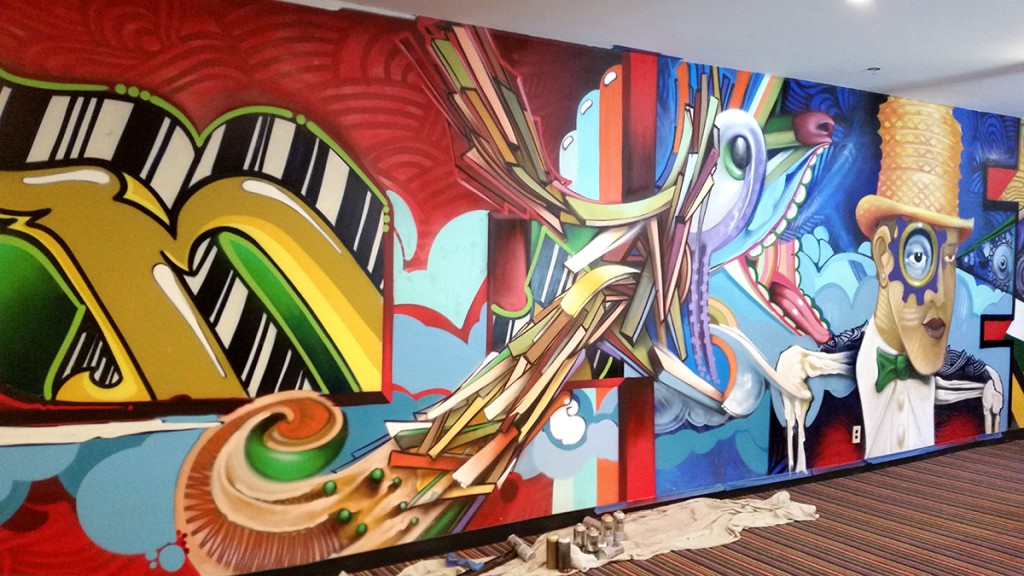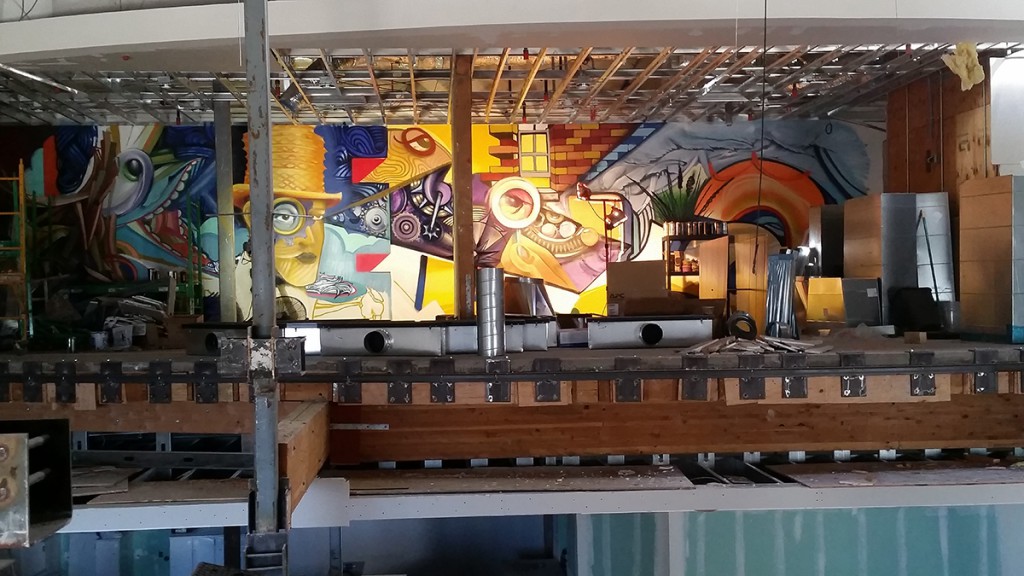 Downstairs, the Angelika staff simply wanted me to create some art that could be used as a guide to lead people upstairs to the lounge. So I used another one of my styles titled "Energenics". This style is all about dynamic energy, harmonizing colors and movement. The painting contains 3-D shapes, Graffiti Arrows and is filled with freedom and allowance, all the elements that the Angelika staff promotes and encourages. It's been so good working with this organization and watching movies lol, you guys are the best.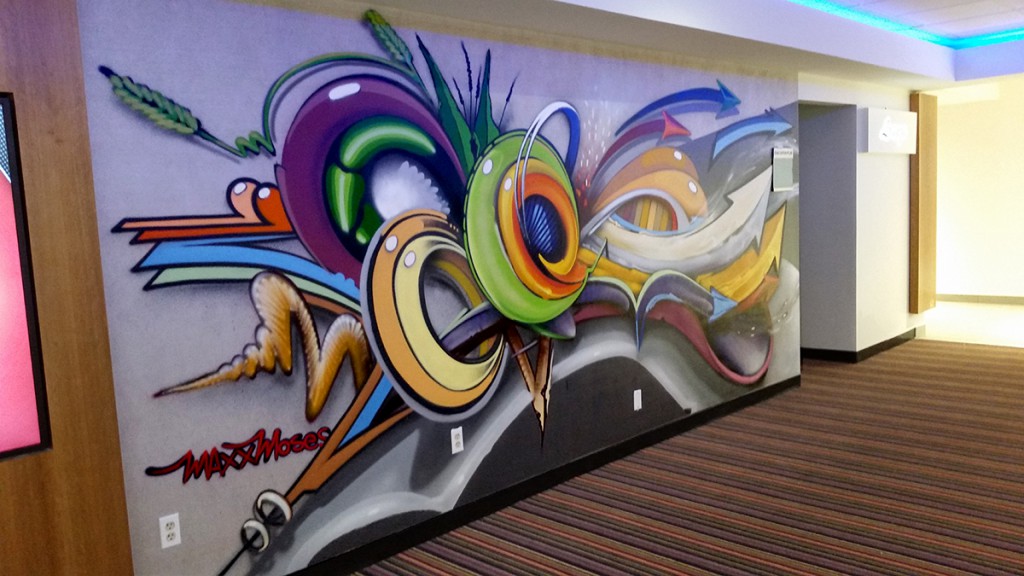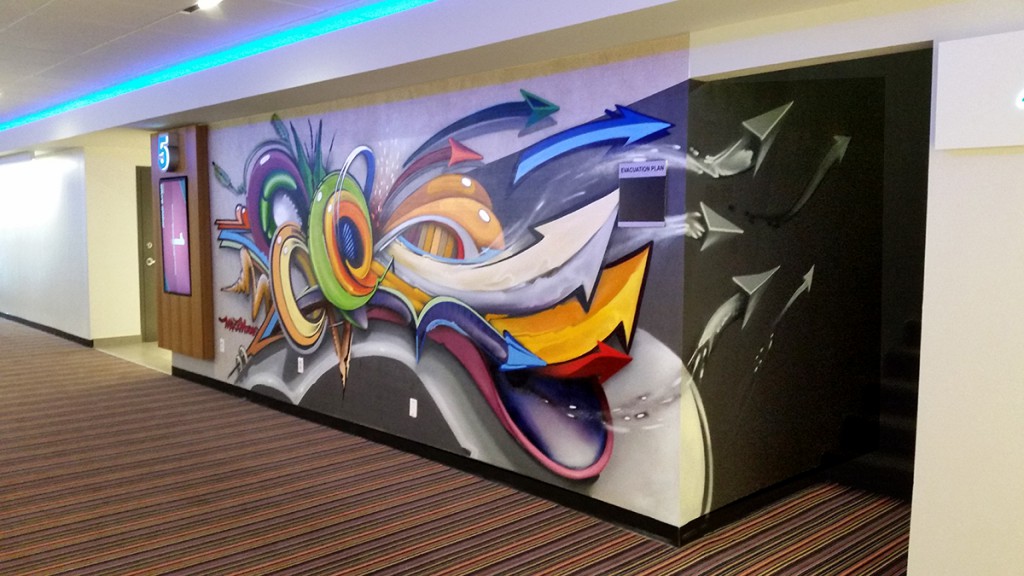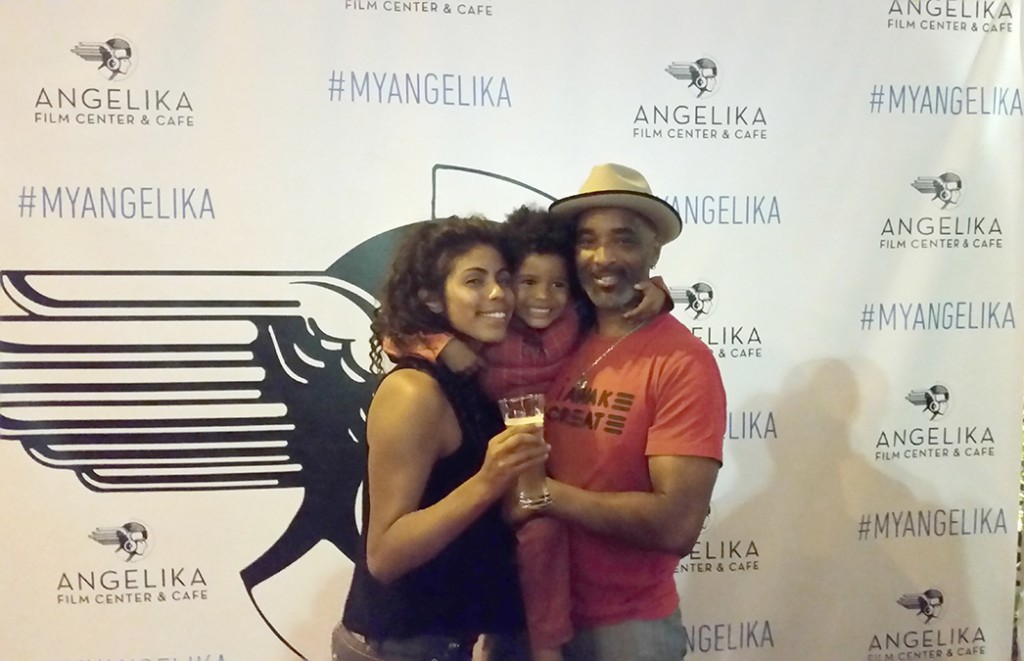 October 8th, 2015 | mrmaxxmoses
Last weekend my good friend Pilot FX , hosted the Meeting of Styles, in Houston TX. It was a weekend filled with art and artist from all around the country. I Personally, think we all had a great time painting and meeting so many new people however the highlight of the event was creating the Mind over Matter mural with the infamous FX Crew. Back in 1992 we formed the FX Crew,(Pose2, Per1, Tkid, Ces, Poem, Nomad, King Bee,Cope2,) in the Bronx, NY. Since its inception this crew of painters has been recognized and respected as one of the most innovative Spray Can Art Crews in the world! As a collective FX Crew are Graffiti Giants, who paved the way in merging styles and technics from Europe, the United States and Puerto Rico. Forging Wildstyle and 3-D lettering with complex beautiful background imagery is the signature style. This formula shifted the paradigm within the world of Graffiti forever and set a new plateau for collaborating planning and executing large- scale Wild Style murals.
23 years later some old and new members have come to Houston to once again do what we love… "Color The World".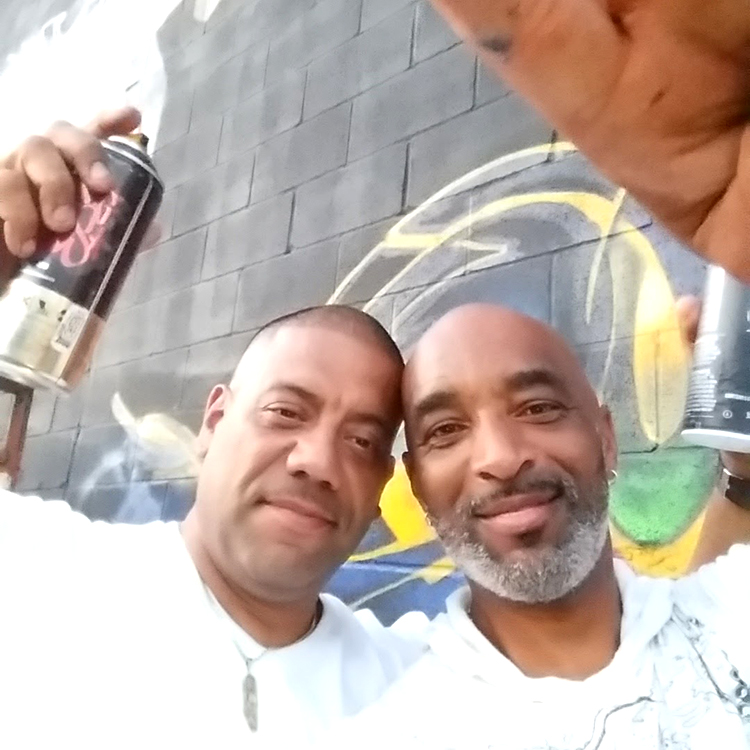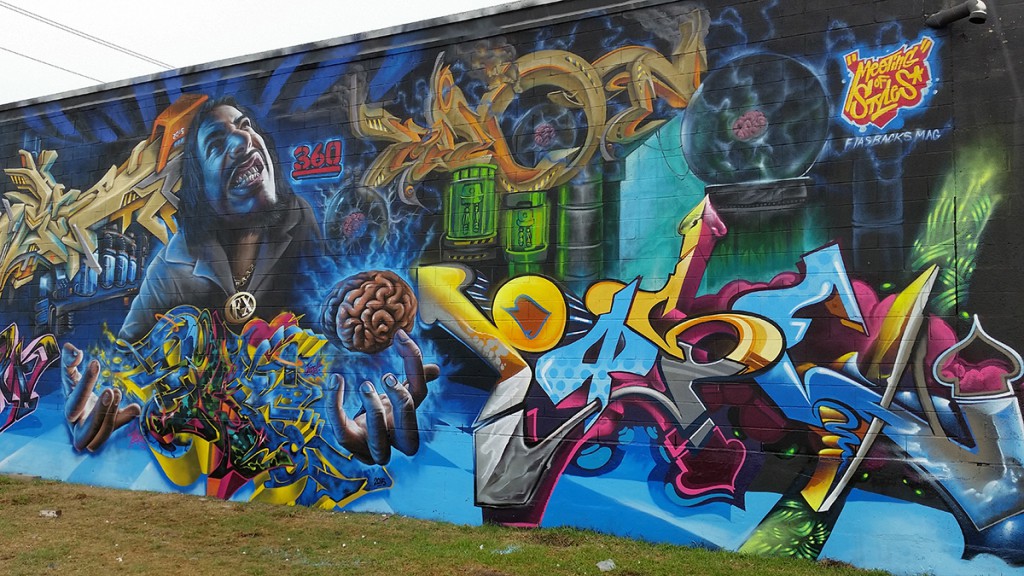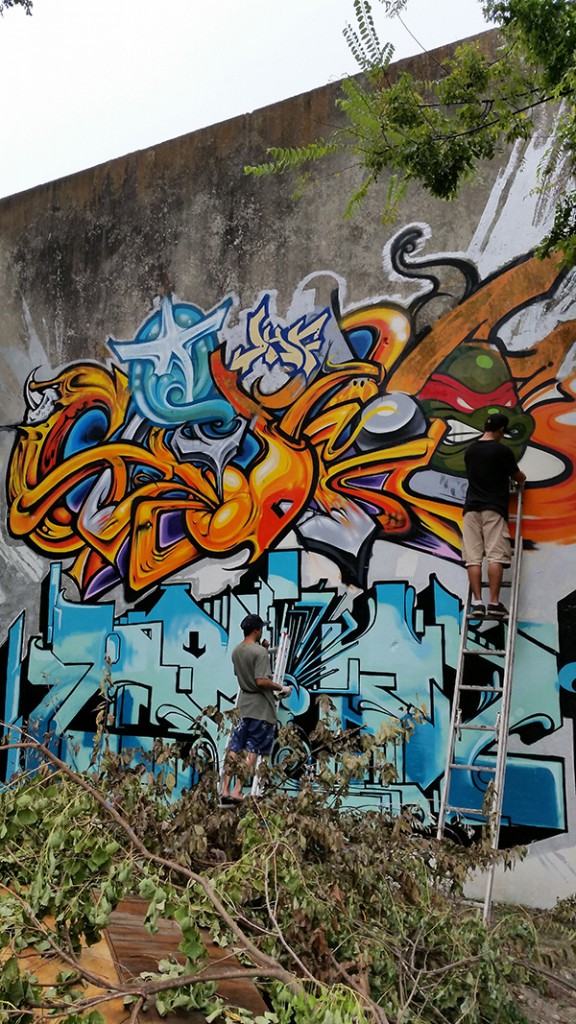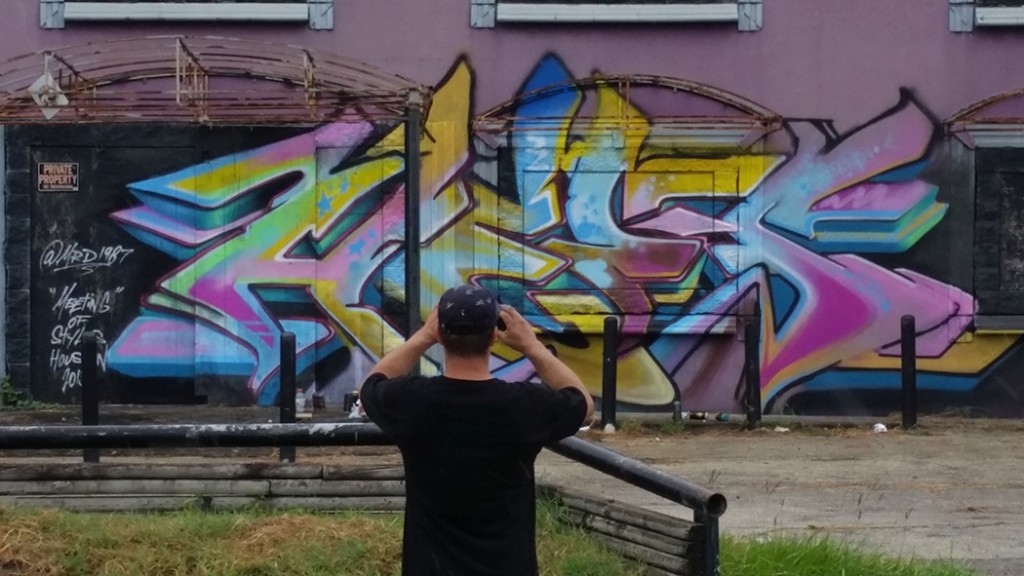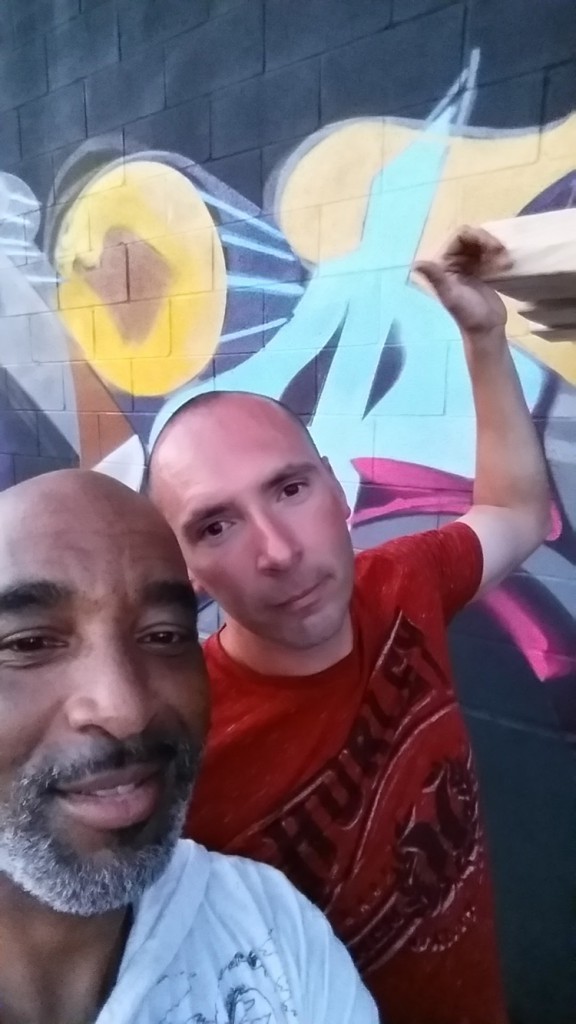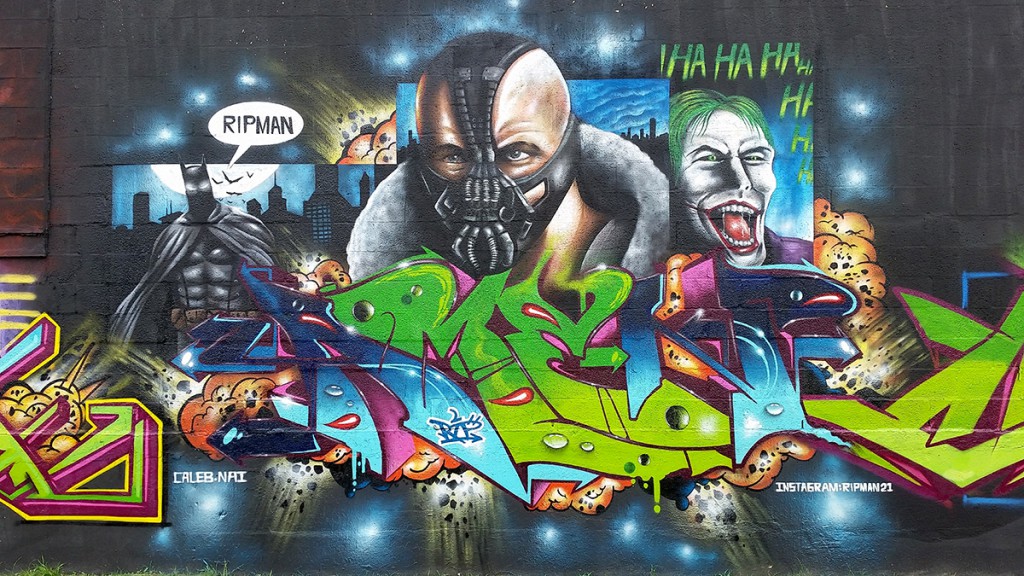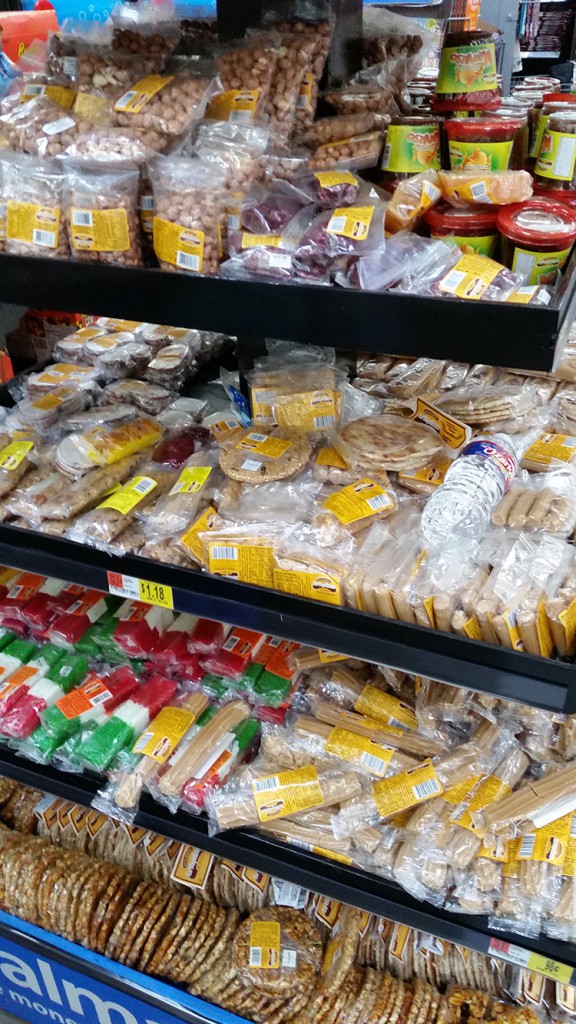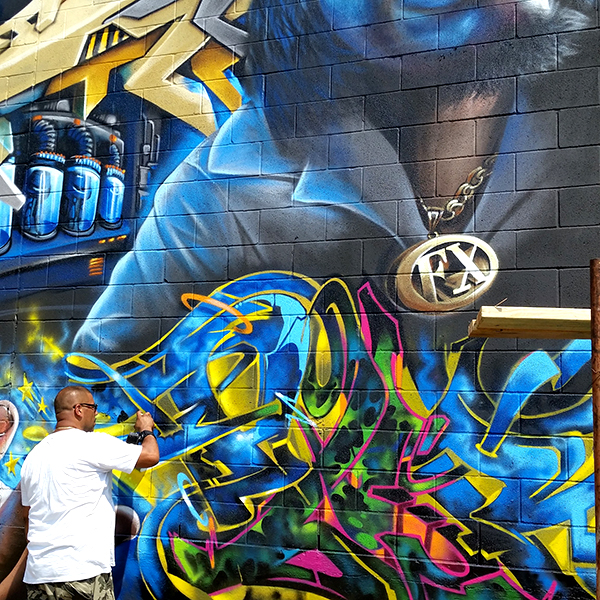 September 20th, 2015 | mrmaxxmoses
Mr. Maxx Moses's latest series of posters/prints are now available
The Wall Series consists of 3 murals painted in Southern California from 2008-2013. While the Pen & Ink Series, are past and recent artworks done on illustration board.
These 11×17 prints can be purchased at $25.00 for your choice of three… and can be shipped anywhere in the United States for only $5.00 shipping!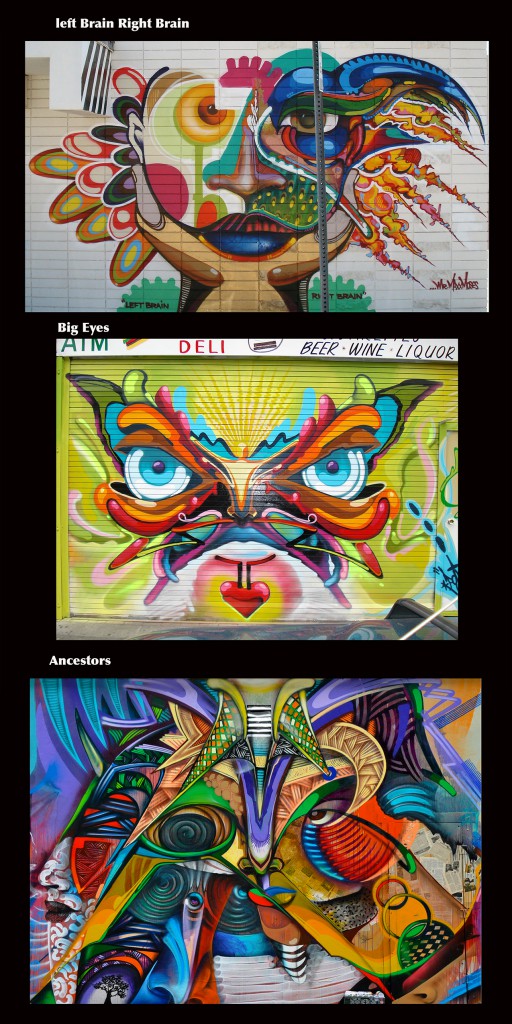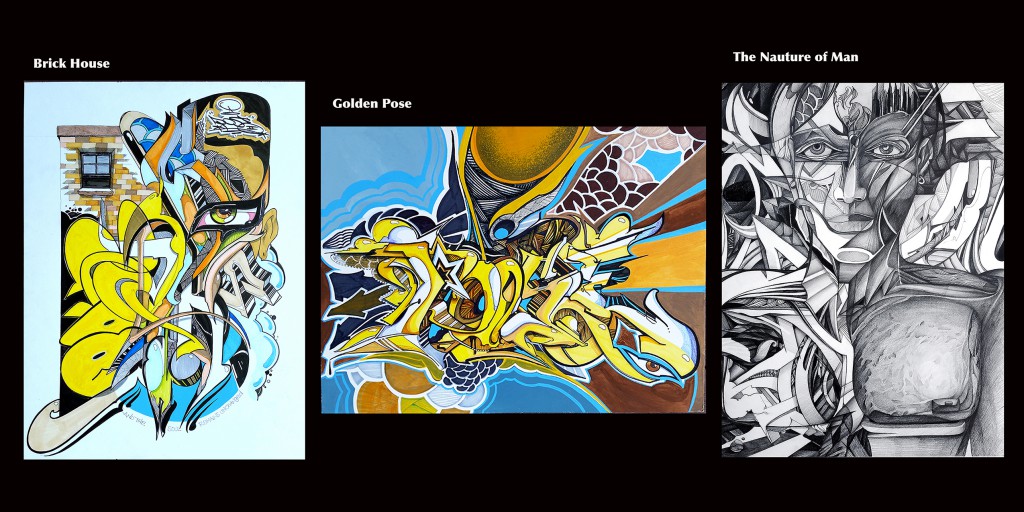 September 3rd, 2015 | mrmaxxmoses
I've recently be invited to participate in this project numerous New York based Artist artwork will be displayed in a mobile art gallery which will be featured at various art and food festivals around New York. The mobile art gallery will also be used to sample DiLusso products at various deli markets while consumers walk through and view your piece.
The idea was to Create a painting that inspires you most about living in NY? It's food, art, culture? My piece is titled "Food For Thought"
Food For Thought is a mixed media painting infused with collaged images of Hip Hop icons natural foods and of course the flow of Maxx Moses. This painting is inspired by the Hip Hop music of 80's 90's and early 2000's. At this period in time the New York Emcee was a verbal chef, cooking up soulful platters of lyrics as "Food for thought". This Boombastic sound blasting from night clubs, block parties and pimped out rides, nourished our appetites like tasty treats, while the content always kept us hungry for more. More beats more rhymes and of course more style. This original style, birthed in New York City influenced Fashion, Art Music and Dance World Wide.
For me this is what made New York special.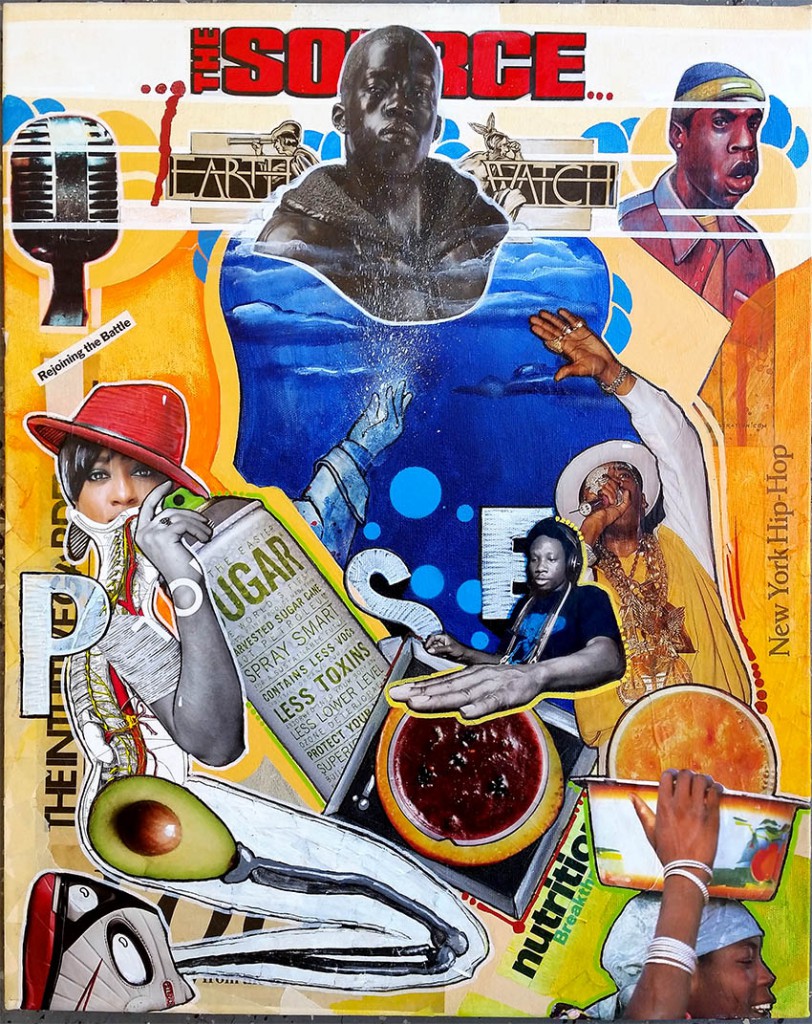 June 8th, 2015 | mrmaxxmoses
A weekend of groundbreaking Art
This weekend Words Beats & Life put out a call to Artist to create the largest public art in Washington DC. Many Artist from DC and the surrounding area's came out to paint the ground and the walls. Fortunately I had some help from a group of students and the dude Vise Versa to help make my section complete… I get by with a lil help from my friends!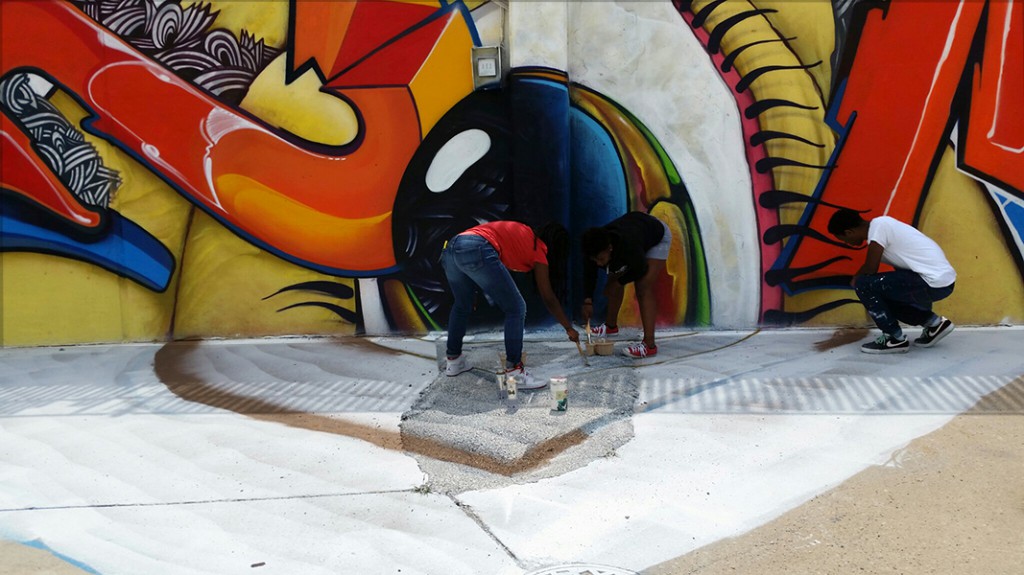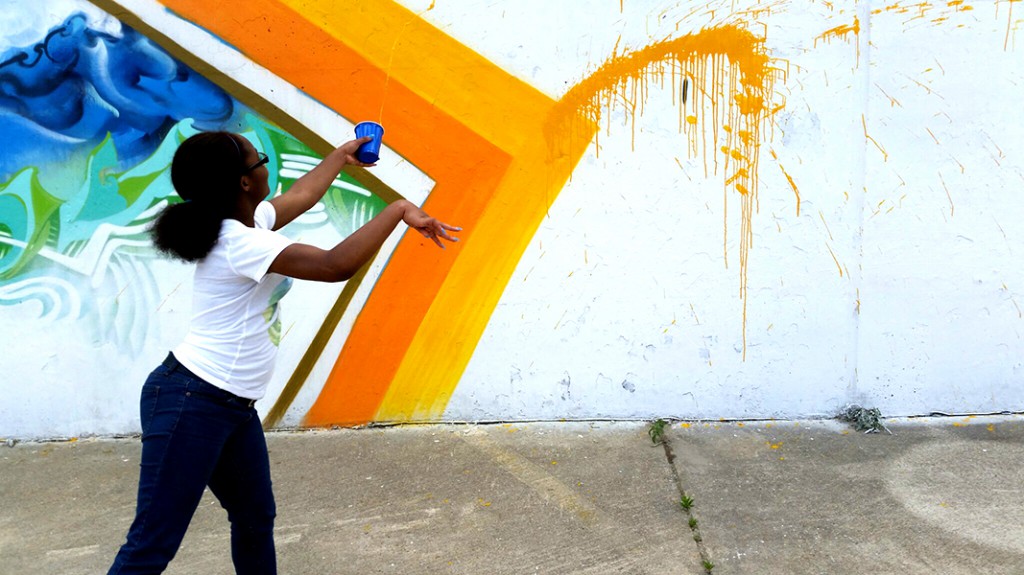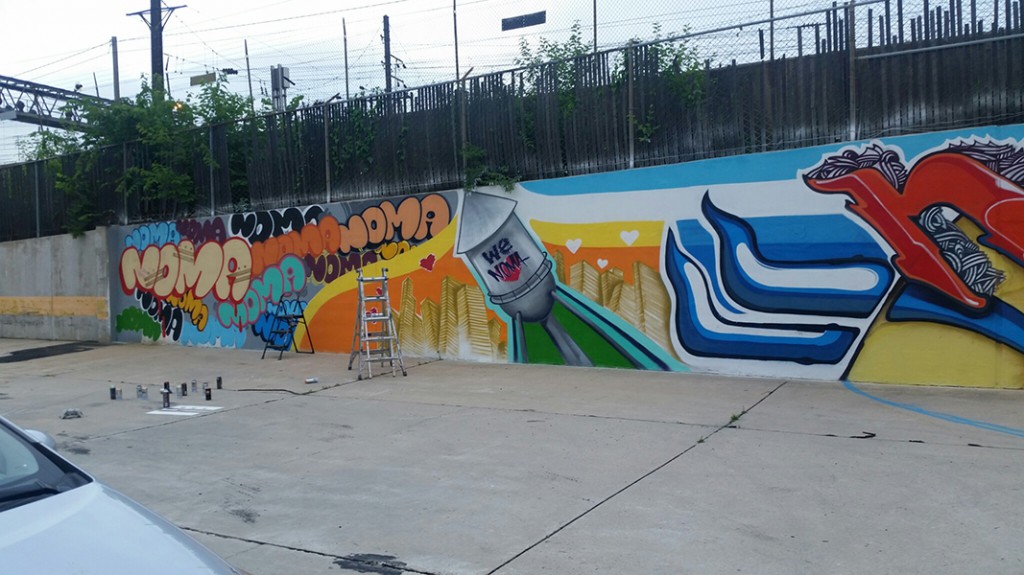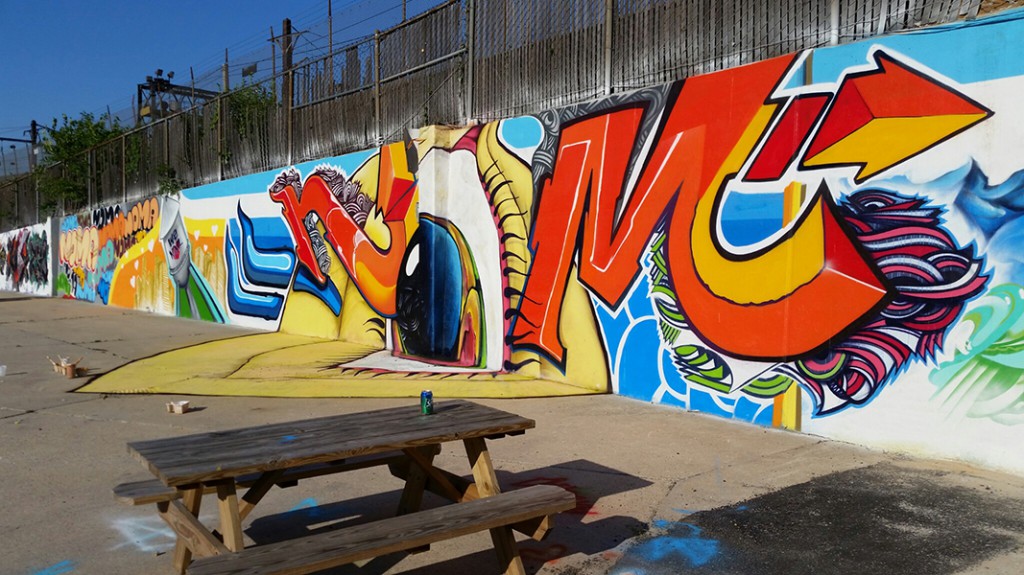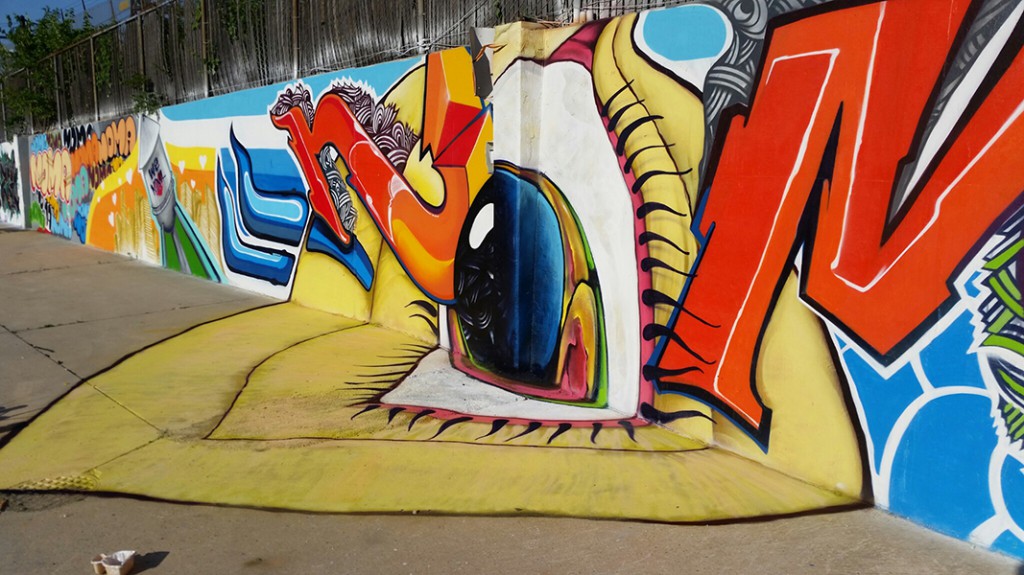 June 7th, 2015 | mrmaxxmoses
This April I was invited to attend the Graffiti Fine Art exhibition in Sao Paulo, Brazil. I was extremely excited about going but seemed as if I wasn't going to make it. Obtaining a visa to go to Brazil seemed nearly impossible. Fortunately some last minute strings got pulled and I was on my way.
The trip from the Airport the Museum was everything I imagined it to be. Sao Paulo is a huge metropolitan city smothered with Graffiti and huge colorful murals all across the buildings and highways, everywhere you looked there was art. It was crazy inspiring right from the start.
When going to Brazil people always talk about the beautiful women that you will encounter and yes there is a plenty. The added feature of Brazilian's in general is their warm spirits, and the affectionate way they interact with one another. This is contagious and heart felt.
The entire experience was enriching and for the first time in my life I was greeted as a Master. I really didn't know how to respond to that title and still don't take it too seriously because I know I personally have so much more to learn and this new generation of artists works far surpass what I've created. So there I was creating some futuristic Mr. Maxx Moses type funk and the next day Binho, (the event Organizer) was like yo Pose can you do some letters, a classic Pose 2 piece? I was like sure no problem and this is what the people in Brazil really gravitated to. I was like dam; really I did that piece in a few hours. That quickness, my history coming from New York and the longevity of nearly 40 years in the game they appreciated and connected with… this they deemed Masterful.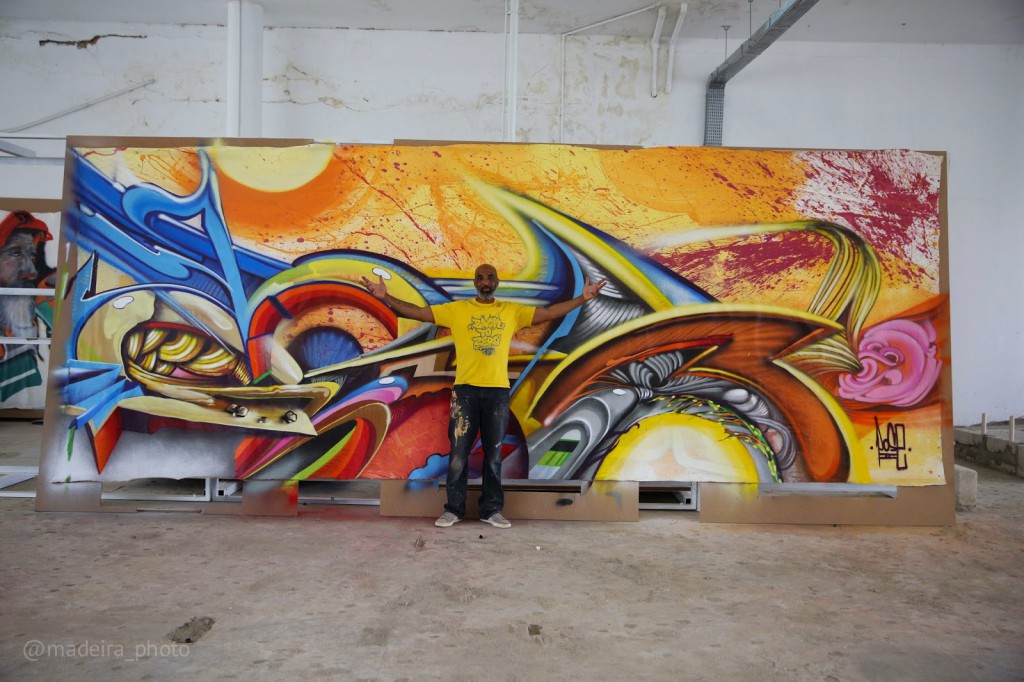 June 4th, 2015 | mrmaxxmoses
As I begin to travel the world November 2014
I learned some valuable lessons preparing for a trip abroad. Look at the map before you travel there may be some interesting places you want to visit and may never get that opportunity again! That's exactly what I did when I learned I was going to Lebanon. I looked at the map and there it was Egypt the trip I've always wanted to take. Although I didn't paint while I was there I did a lot of sketching and internalizing along the Nile Valley.

December 9th, 2014 | mrmaxxmoses
Lebanon the trip to Tripoli
This journey began with an invitation from Mazi, of Words Beats & life, to venture across the planet to Tripoli, Lebanon and teach a Graffiti workshop and paint a mural. Mazi was like yo Maxx you want to go to Lebanon… I was like word lets do this! I've had the pleasure of collaborating with Mazi a number of times this year and each experience gets richer and deeper. However we wouldn't be alone this was a crew mission and the goal was to stimulate Cross Arts, a Hip Hop organization within Tripoli by providing them of the raw pure energy found within the elements of the Art form we love… Hip Hop. Essentially our mission was to inspire their of community, that they may propel their art and organizational skills to a higher level of creativity. So Mazi organized the All- Star team including Hodari B. Davis, Producer at lifeisliving.org, (Spoken Wordsmith) along with, DJ 2-Tone Jones, (Musician), Geoffrey Chang aka, Toys aRe Us (B-boy) and Javier Starks, (Emcee) and of course Asad Jafri, whose attention to detail, personal style and overall organizational skills was the perfect fit.
On November 6th I arrived in Beirut, Lebanon greeted by Mazi and Hodari at the hotel. We were all tired and hungry but our conversation was super rich and super deep… Hodari B. Davis is just that kind of brother you instantly bond with.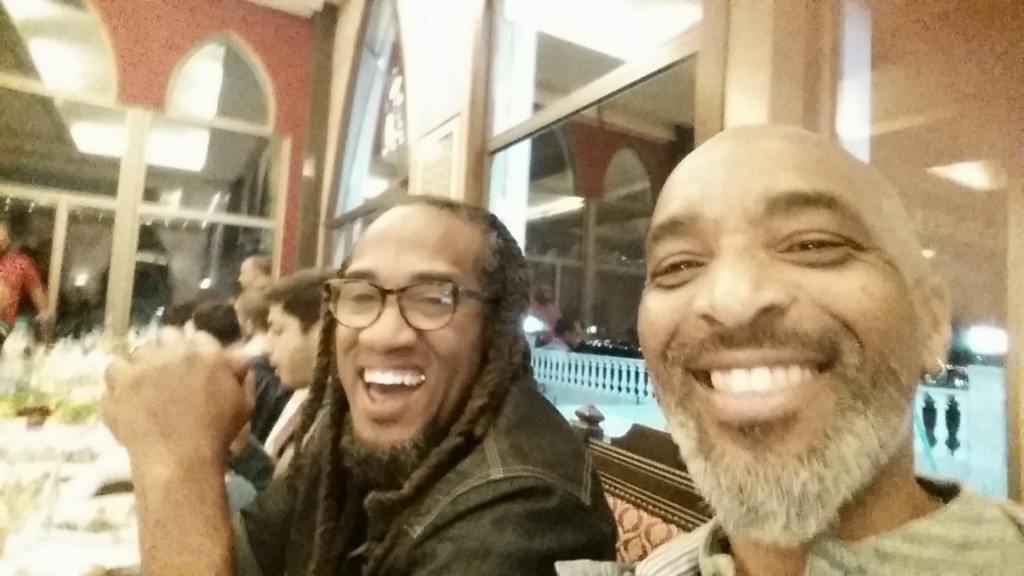 The next day we met with the organizers/sponsors of the trip. Prior to going to Lebanon there was security briefings that would have made the non-seasoned traveler totally change his mind about this trip to Lebanon. Even those I told about the trip were like word you going over there? That's crazy! All I remember my Dad saying to me was "son pray… pray a lot before you go over there."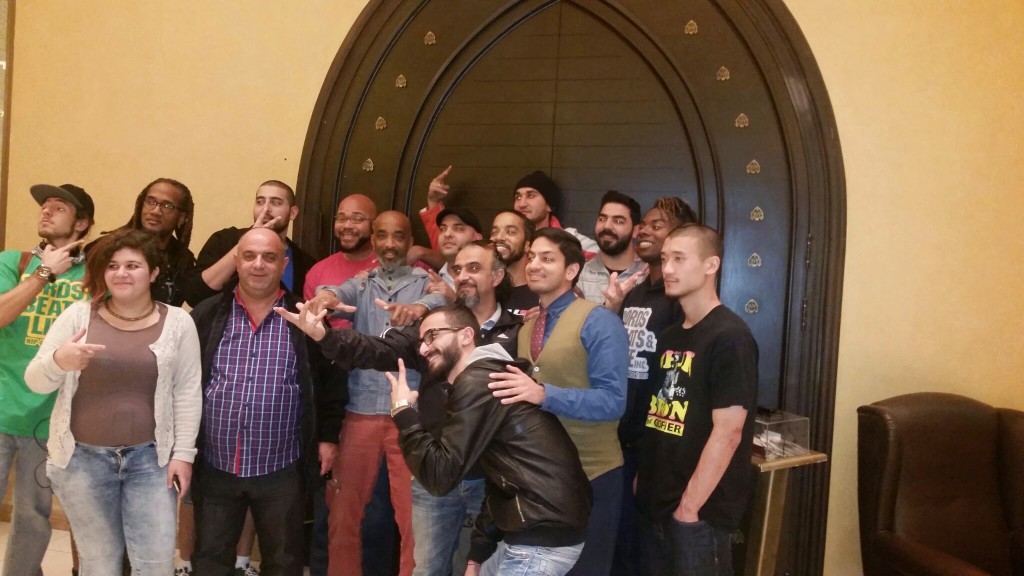 "A lot of people have bucket lists in their lives, I just kick the bucket and live." While looking at the map of Lebanon and the surrounding areas I realized two things. One, I was traveling to some ancient historical areas what used to be called Mesopotamia. And Secondly Egypt was only 1:30 minutes away from Beirut. My spinal cord electrified when I knew it was now time to travel to the land of the Gods and Goddesses, my ancestors.
Creatively, for this trip I wanted to return back to my roots, lettering/Graffiti the art of writing your name, for two distinct reasons. First and foremost I wanted to leave a remnant of my style in that part of the world for the youth to see learn and grow from. Secondly I wanted to pay homage to the art of writing, and the God Tehuti the creator of such.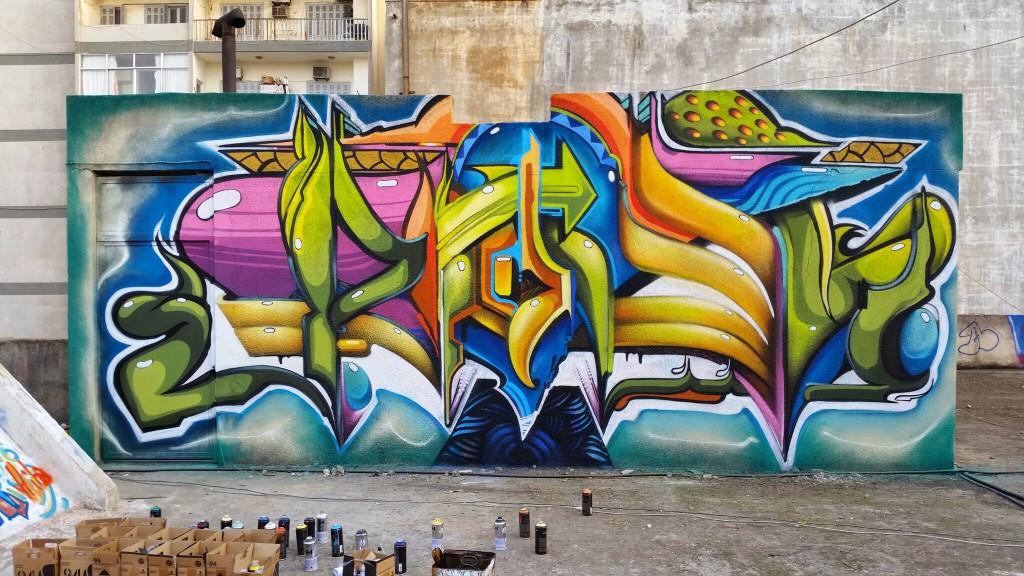 After the meeting it was off to get some paint in preparation for Tripoli. We were guided to a spray paint store in Beirut, that happened to be the official MTN distributors in the country. Oras and Wyte greeted us like Kings; we purchased a grip of paint and headed off to Batrun, Lebanon for the Words Beats & life/ Cross Arts seminar.
Upon arrival we were enthusiastically greeted by the entire crew from Cross Arts, they were so excited to have us come to their country I could hardly put my bags down. The painters were anxious to show me their works and paint together. But we were hungry and travel weary… where's the food? Seamlessly we were ushered to the elaborate dinning room accompanied with a spread of delicious vegetables, hummus, breads, shish kabob and fruits, pure lebanease style… and of course we smoked shisha after that.
The Next several days were purely dedicated to exchange, ideas cultural differences and particularly the Arabic lettering styles. Our group was challenged to take an even closer look at our approach as artist from America. I didn't want to give the idea or impression of a Christian Missionary, coming to tell you that all of what you are doing is incorrect so adapt to my way of doing things or your doomed! I simply wanted to dialogue with them on a creative vibe so we could truly learn from each other… and this we did to the fullest.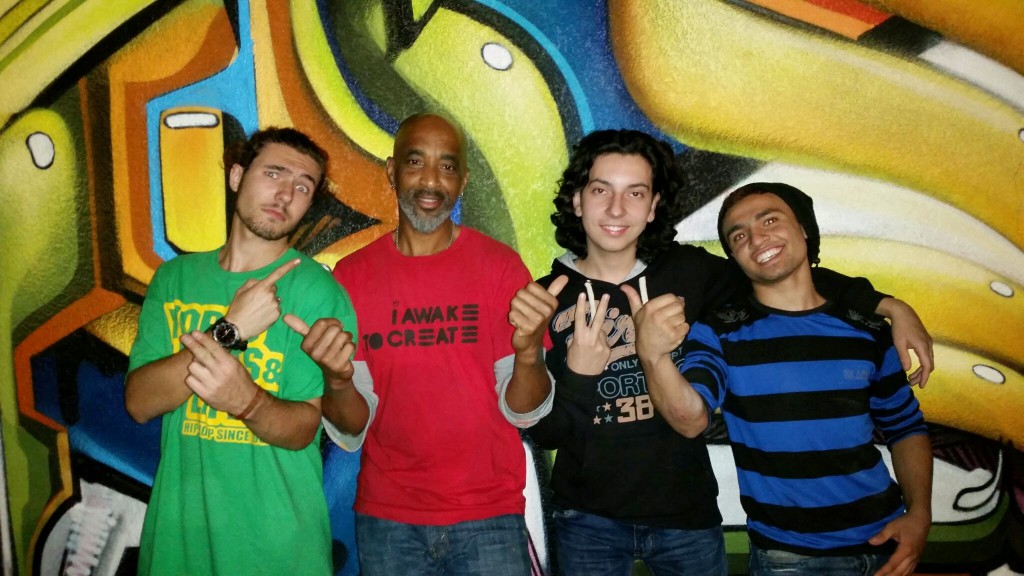 « Previous Entries
Next Entries »